No fears for Hazelwood ahead of return to improved Sandown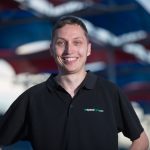 Todd Hazelwood has no fears about heading back to the scene of a monster crash at Sandown which has since been modified to improve safety ahead of this weekend's Pirtek Enduro Cup opener.
The South Australian made headlines last year after emerging unscathed from a spectacular crash at Turn 6 during Saturday's co-driver race when driving for Brad Jones Racing alongside Tim Blanchard.
Tekno Autosports co-driver Jonathon Webb was fined $15000 after he tagged the rear of Hazelwood sending both cars into the barriers with the latter encountering a series of frightening rolls.
Changes have since been made to the barriers on the exit of the high-speed Turn 6 that has witnessed several huge crashes over the years.
A new concrete barrier has been installed which is protected by more energy absorbent tyre bundles.
The upgrade, alongside an extra run off area at Turn 1, are part of a wider plan conducted by the circuit to maintain its level 3 FIA rating required to host Supercars.
Now driving for Matt Stone Racing, Hazelwood, who amazingly contested a Super2 race shortly after the crash last year, says he was not consulted about the safety improvements.
However, the Supercars rookie believes if drivers respect the area of the track then the weekend will go ahead without a hitch at Turn 6.
"Apart from being the crash dummy I haven't had any involvement since," said Hazelwood.
"It's always been a dangerous part of the circuit for many years, but every track has them, at the end of the day you just need drivers to respect the corners, not change the track.
"It doesn't matter where you're racing, you can still have a big shunt if people do stupid things. As long as no one does anything stupid, it should be a good weekend.
"You've just got to put those things behind you and, as big and spectacular as it was, getting back in the car was the best thing for me.
"Obviously not driving the car at Sandown with (Tim) Blanchard, but then fronting up at Bathurst, which is even more daunting with a new car, was tough.
"If I can get through that, next weekend will be a breeze."
This weekend will see Hazelwood team up with MSR Super2 driver Bryce Fullwood for what will be the team's second event with the VF Commodore this year after switching from the Falcon FGX.
The pairing is among the youngest in the field with neither driver having ever contested the Sandown 500.
After a difficult season to date, Hazelwood sees the enduros as an opportunity to snare strong results.
"For us as a small team trying to move forward, absolutely the enduros are very exciting and a great opportunity to get a result," Hazelwood added.
"Recently we haven't had the greatest form, but I feel that with this test day and recent knowledge from the Bend, using that car for the first time (this year), we can put that knowledge together and hopefully have a breakthrough result.
"It's pretty rare that both drivers in the same car are both making their debut in the Sandown 500.
"I can't wait to team up with Bryce. I think he's doing a really good job and for him to be running in the Super2.
"The Super2 series is going to be running on soft tyres there, so that's a pretty exciting element for the Super2 drivers, but also helps that transition phase that I know some drivers have struggled with in the past, jumping from one to the other.
"I've been there and done that last year, it can play tricks on the mind."
Hazelwood and Fullwood completed a pre-event test at Queensland Raceway last week in preparation for the Sandown 500 which begins on Friday.