Hyundai Motorsport reveals Aus interest in TCR car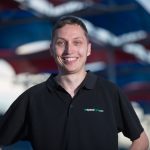 Hyundai Motorsport has received several inquiries from prospective competitors evaluating entries into TCR Australia next year.
The Korean car maker is among a range of manufacturers that provide TCR machinery and customer racing programs to drivers and teams who wish to compete in the growing global touring car category.
Having established itself in Europe and Asia, The two litre touring car class is now set to launch into Australia with backing from the Confederation of Australian Motor Sport (CAMS), which has appointed the Australian Racing Group (ARG) as series promoters.
TCR Australia is yet to secure a calendar or announce any confirmed entrants for its inaugural season.
However, Hyundai Motorsport's head of customer racing in Europe Andrea Adamo has told Speedcafe.com that his firm has received plenty of interest from drivers and teams regarding its i30 N TCR car, priced at approximately $207,000 AUD.
The i30 N TCR has proved a dominant force this season having won nine races in the WTCR (FIA World Touring Car Cup).
Hyundai sees TCR as a platform to sell customer racing cars and parts to competitors and promote its road car range.
"The news around TCR Australia is important and has already raised many inquiries from many potential customers so we'll see what this brings," Adamo told Speedcafe.com.
"I'm in contact with the Australian ASN (CAMS) to understand how it is going.
"We are dealing with them and we are constantly in touch with them in order to understand what is being planned, the possible calendar and any launch that they are planning to do.
"We are working shoulder by shoulder with them because we strongly believe in TCR Australia and in the potential market there."
Adamo says the company is investigating the possibility of setting up a local importer in Australia to assist future TCR Australia competitors.
"In Asia, and Australasia, we are chasing for local dealers, local agents," he added.
"It's so popular that we cannot manage it from here (Europe).
"The time difference is too much and motorsport is not just customer racing.
"Of course, it's not just a matter to be competitive in car, but being competitive in terms of servicing the car.
"We need to have someone answering the phone in case of problems and have parts delivered physically up to payment. You need a very fast reaction that could be guaranteed in Australia by having a local agent."
Hyundai is not the only marque to have shown interest in TCR Australia.
Audi has been following the progress of the class since the start of the year having met with CAMS at the Liqui-Moly Bathurst 12 Hour in February.
The brand is also responsible for the only TCR machine in Australia having sent an example of its RS3 LMS TCR car down under for promotional activities.
Australian team MARC Cars Australia is currently evaluating the prospect of entering the series next year by running an Audi in the Barcelona 24 Hours race.