Plans to revive Kelly Racing brand progressing for 2019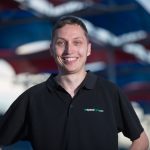 Plans to relaunch the Kelly Racing brand next year are progressing as the squad prepares for a new guise following Nissan's decision to end its factory Supercars program.
Next year the Braeside operation is set to revert to the team's roots with the re-introduction of the Kelly Racing banner it ran under since its inception in 2009, before morphing into Nissan Motorsport in 2013 after striking a deal with the Japanese marque.
Following confirmation of Nissan's plans to leave Supercars at the end of the year, it was confirmed in May that the team will undergo a rebranding process for 2019.
This will take place having secured a deal to retain the use of its heavily developed Nissan Altimas which it will run next season.
The team's marketing and sponsorship boss Nick Ryan admits rebranding the business is a significant process and one that is essential to get right for the team's next chapter.
"Without doubt there will be some identity changes leading into next year," Ryan told Speedcafe.com.
"Of course we will still proudly represent Nissan each and every event but there will be a rebrand process which will come to light later in the year.
"We will be racing Nissans next year and there will be no change from our side with regards to any references to the vehicles.
"The process is about looking at our origins and then considering, and it has been a number of years since we raced under the Kelly Racing banner, what is appropriate for the future.
"For sure it is quite a process and we need to get that right. It is progressing well for us at the moment but there is no urgency as we continue through to the end of the year under that factory association with Nissan.
"Underneath this business we have still maintained the identity of Kelly Racing in terms of the promotional sense.
"From a commercial sense with regards to identity the representation of the Kelly Racing branding will take place.
"It is just a consideration regarding the look and feel for what that looks like and a modern take on what was previously in the market.
"That process is taking time but there is no level of urgency or considerations to the future because our commitment is to be racing Nissans in 2019 and possibly beyond."
Team principal Todd Kelly has maintained that the squad is fully focussed on retaining its four car model for 2019.
While there has been plenty of rumblings in the Supercars' Racing Entitlement Contract market, Ryan has reiterated the team's stance to continue unchanged for next season.
"Four (cars) is an essential model for our business," he added.
"With all our infrastructure in our business and our capabilities it is not a model that is sustainable on less than four cars, so for our long term future four is a necessity."
The squad is yet to confirm its driver line-up for next year with Michael Caruso out of contract at the end of the year, while Simona de Silvestro has been heavily linked to a possible move away from the squad.