Scott McLaughlin Grand Prix to support NZ karters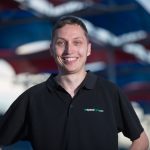 Shell V-Power Racing driver Scott McLaughlin has thrown his support behind a new initiative designed to raise money for young karters in his native New Zealand.
The charity event known as the 'Scott McLaughlin Grand Prix' will be based around a Pro-Am driving event at the Hampton Downs Circuit, near Auckland, that will see corporate guests team up with high profile local athletes.
Teams will compete in a selection of driving challenges from karts to exotic machinery provided by the Giltrap Group.
All proceeds from the event will go to KartSport New Zealand and its Driver Development Academy.
"It's my way, if you like, of saying thanks," said McLaughlin, who began his motorsport career in karts in New Zealand.
"Last year I felt honoured when I was asked if I would like to be made the Patron of the sport in NZ. I see my Grand Prix event in the same light.
"I wouldn't be where I am today if I hadn't been able to start racing karts in Hamilton back when I was a little tacker, so as far as I can see the more I can use the profile I now have to help the sport the better."
The inaugural Scott McLaughlin Grand Prix will be held on November 6 the Tuesday after the ITM Auckland SuperSprint.