James Davison cuts Supercars laps at Winton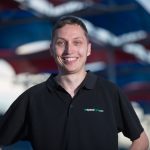 Three members of the Davison family cut laps in a 23Red Racing Supercar in a test at Winton as James Davison joined Pirtek Enduro Cup pairing of brothers Will and Alex Davison.
The Melbourne squad completed its second day of back-to-back tests at the rural Victoria circuit as Will and Alex prepared themselves for the enduros which begins at next weekend's Rabble.Club Sandown 500.
Yesterday the duo were joined by cousin James who conducted an eight lap run in the Milwaukee Racing Ford Falcon.
It was only his second outing in a Supercar after completing a handful of laps in Will Davsion's then Ford Performance Racing Falcon in 2011.
Based in America, James has been racing part-time this year which has included drives in the prestigious Indianapolis 500, WeatherTech SportsCar Championship and most recently the NASCAR Xfinity Series.
The 32-year-old is eager to throw his hat into the ring for future Supercars enduro drives and believes the running will only help him learn the nuances of V8 Supercars.
"It was great to do some laps with 23Red Racing alongside Alex and Will," Davison told Speedcafe.com.
"I met Phil Munday (team owner) at the Australian Grand Prix and I got to know him further at the Indy 500. He is a great guy and has a sincere passion for motorsport.
"The team chemistry within 23Red Racing was really nice to be a part of.
"It was only an eight lap run but I am grateful for it.
"Back in 2011 it was very similar situation where I did a handful of laps in Will's FPR car.
"I certainly felt I was better prepared this time. I've raced GT cars and NASCAR in recent years and I would love to do more at a proper test day to perfect the art of driving a V8 Supercar.
"It is like driving a car that is in between a GT3 car and a NASCAR. They certainly have a particular knack to master and I'm very eager to get on top of that with a test day.
"It has always been my ambition to do the enduros.
"When I had a drive of Will's car in 2011 all I had done was open wheel racing but now having raced IMSA and done many long endurance races like Daytona and Sebring and driving heavier cars like NASCAR it is somewhat relevant.
"I certainly feel it is a more appropriate time to put myself forward."
Davison is set to attend next week's Sandown 500 and the Supercars' showpiece Supercheap Auto Bathurst 1000 next month.