Erebus to reveal retro colours at open day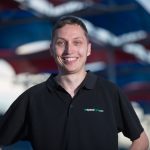 Erebus Motorsport will unveil its retro liveries at special event at the operation's workshop on Sunday.
The Melbourne squad is inviting fans to its Dandenong South headquarters to witness the reveal of its Rabble.Club Sandown 500 retro colours for David Reynolds' and Anton De Pasquale's ZB Commodores.
Attendees are being encouraged to dress in retro attire with the team set to offer a hot lap to the best dressed fan.
The open day will also feature live music, driver signing sessions and the opportunity to purchase memorabilia and the squad's new retro team kit.
Erebus Motorsport's facility at 16 Commercial Drive, Dandenong, will be open from 11am-2pm on Sunday, September 9.