Vettel: Hamilton left no room in first lap clash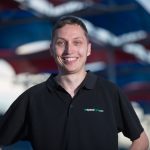 Sebastian Vettel believes Lewis Hamilton left him no room in an opening lap clash that shattered his hopes of victory in the Italian Grand Prix.
Vettel found himself facing the wrong way at the Roggia chicane after contact with Hamilton while the pair disputed second position.
Benefitting from a tow, Hamilton ranged around the outside of Vettel before the pair touched, spinning the Ferrari, which then put the German to the back of the pack.
Vettel suffered a damage to the front wing in the clash which the stewards judged to be a racing incident.
While Hamilton went on to take the victory with a late pass on Kimi Raikkonen (Ferrari), Vettel recovered to fourth following a five second penalty for Max Verstappen (Red Bull), who finished third on the road.
Reflecting on the first lap clash, Vettel felt Hamilton squeezed him too hard.
"Lewis obviously saw a little gap around the outside," Vettel told Sky Sports F1.
"But then he didn't leave me any space and I had no other choice than to run into him and make contact.
"I tried to obviously get out of there but I couldn't. Unfortunately I was the one that spun around, which was a bit ironic. But it was that way."
Hamilton disagreed with Vettel's assessment when he offered his version of events post-race.
"There was plenty of space there, I was as far over as I could be," Hamilton told Sky Sports F1.
"There was definitely a car width on my left and ultimately that is why the stewards didn't say anything."
Forced to make an extra pit stop compared to his rivals, Vettel was however pleased with his recovery drive to fourth.
"When you're looking the wrong way, things do not look too peachy," Vettel added.
"But from there I think I drove well and tried to recover.
"We still got a lot of points so it could have been a lot worse today.
"Obviously it doesn't help when you lose points but it's not the end of the world. We'll all still wake up tomorrow morning.
"For sure I'm down at the moment but mostly for the people (here). Their support has been incredible. Unfortunately we didn't deliver.
"But then what can you do when if get spun round? It could have been a good race, but it wasn't. It was still very entertaining, probably more entertaining that way, but not very satisfying."
Vettel is now 30 points adrift of Hamilton in the championship standings ahead of the Singapore Grand Prix held from September 14-16.