Vandoorne to depart McLaren at end of 2018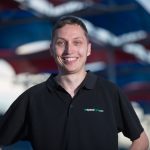 McLaren has confirmed that Stoffel Vandoorne will leave the team at the end of the season.
The Belgian's future at the squad has been called into question in recent weeks after a difficult second season at the Woking operation.
Vandoorne, a 2015 GP2 champion, was promoted from test driver to a race seat at McLaren following Jenson Button's retirement at the end of 2016.
The 26-year-old has scored just eight points this season and is currently 16th in the championship standings.
"We're immensely thankful for Stoffel's dedication, hard work and commitment during his time at McLaren," said McLaren CEO Zak Brown.
"He's a talented racing driver with an incredible list of accolades in his junior career. We're proud to have played a part in his break into Formula 1, from his role as test driver to his fantastic points-scoring debut in Bahrain in 2016.
"It's clear we haven't provided Stoffel with the tools to show his true talent, but throughout our relationship he's proved to be a fantastic team player. His work ethic is impressive, he has a great reputation within the team and we've really enjoyed working with him.
"Of course, we would have loved to achieve more success during our time together, but that doesn't detract from the fact that he will always be a part of the McLaren family of grand prix drivers.
"For now, we look to the future and to the remaining grands prix in 2018, where I know both Stoffel and Fernando will be pushing hard to fight for as many points as possible before we close the curtain on this season.
"We wish Stoffel all the best in whatever direction he chooses to take next in his career, and we'll be supporting him all the way. We will announce our full driver line-up for the 2019 season in due course."
Vandoorne says he also plans to announce his 2019 plans in due course.
"I'm very grateful to McLaren for investing their faith in me over the past five years," said Vandoorne.
"While we haven't achieved the success we'd all hoped for, I've really enjoyed the past two seasons racing for McLaren and I have a great relationship with everyone in the team.
"My time at McLaren has been a great chapter in my career and I'm thankful for the opportunity the team, Shaikh Mohammed bin Essa Al Khalifa and Mansour Ojjeh have given me to gain valuable Formula 1 experience and develop as a driver.
"I intend to give it my all for the remaining seven races of this season, and will announce my plans for next season in due course."