Grosjean excluded from Italian GP after Renault protest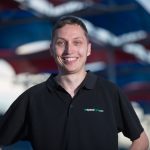 Romain Grosjean has been excluded from the Italian Grand Prix after stewards found his Haas F1 car had breached regulations.
Grosjean has been stripped of his sixth place finish after it was found the floor of the car failed to comply with the rules.
Stewards were called to investigate the car after Renault launched a protest following the completion of Sunday's race at Monza.
"The reference plane of car number 08 is found not to be in compliance with Article 3.7.1 d) and the clarifications given in TD/033-18 published on 25 July 2018," said the FIA.
"The surface formed by all parts lying on the reference plane must have a 50mm radius (+/-2mm) on each front corner when viewed from directly beneath the car, this being applied after the surface has been defined."
Haas F1 had been requested by the FIA in July to make changes to its floor in time for the Italian Grand Prix but the team asked for an extension until the Singapore Grand Prix which was not formally agreed.
This left the team open to a protest from a rival team.
Haas F1, who had taken over fourth in the constructors standings from Renault after Grosjean's result, has appealed the decision made by the stewards.
Grosjean's disqualification from the Italian Grand Prix has seen Esteban Ocon assume sixth with Racing Point Force India team-mate Sergio Perez climbing to seventh.
Renault's Carlos Sainz moves to eighth leaving Williams to secure its first double points finish of the year with Lance Stroll and Sergey Sirotkin completing the top 10.