Clutch issue caused Ricciardo retirement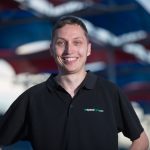 Renault has confirmed that a clutch problem caused Daniel Ricciardo's retirement from the Italian Grand Prix.
Ricciardo had been scything his way through the field from the back of the grid when smoke began to emerge from the rear of his Red Bull while battling for 11th spot.
Initially it was believed that the Australian had suffered an engine failure but following an investigation Renault has identified a problem with the clutch.
Ricciardo had started the weekend with Renault's new unproven C-spec power unit.
The upgraded engine had been taken up only by the Red Bull squad in Italy and its use in Ricciardo's car subsequently prompted a grid penalty for a power unit change.
"We can confirm, after studying the PU (power unit) on Daniel Ricciardo's car, that his retirement was not linked to the engine. It was rather a clutch issue," read a statement from Renault.
The retirement was Ricciardo's fourth from the last six races which has left him 12 points behind Red Bull team-mate Max Verstappen in the championship standings.
Formula 1 heads to Singapore for the next round of the championship from September 14-16.