Vettel heads Ferrari one-two in eventful Monza practice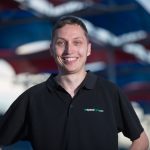 Sebastian Vettel headed a Ferrari one-two in Friday practice for the Italian Grand Prix which was punctuated by a huge crash for Sauber's Marcus Ericsson.
Ferrari emerged as the team to beat at Monza after locking out the top two positions in Practice 2, held in dry conditions after rain affected the opening session.
Proceedings were however delayed by 20 minutes at the start of Practice 2 when Ericsson was involved in a frightening crash.
The Swede found the barriers on the start/finish straight when the car snapped left upon hitting the brakes as he prepared to tackle the chicane.
Ericsson was pitched into a series of barrel rolls before emerging from the wreckage unscathed. It is thought a DRS failure prompted the crash.
Ferrari soon came to the fore when action resumed after barriers underwent repairs.
Vettel headed Kimi Raikkonen initially before the pair swapped positions during qualifying simulations.
The Belgian Grand Prix winner responded to post a 1:21.105s on his third qualifying simulation run which ultimately remained as the Friday benchmark.
However, the session was not without incident as Vettel skated into the gravel trap before nudging the barriers at the Parabolica while trying to improve his time.
After recovering to the pits, slight damage too the rear wing end plate forced him out of action until the session entered its final 10 minutes.
Raikkonen maintained second spot with a 0.270s deficit to his team-mate, while championship leader Lewis Hamilton was third just 0.017s behind the Finn.
Valtteri Bottas in the sister Mercedes claimed fourth ahead of the Red Bull duo of Max Verstappen and Daniel Ricciardo who were more than a second adrift of Vettel.
Ricciardo trialled Renault's new C spec engine but will start from the back of the grid due to the power unit change.
The Racing Point Force Indias of Esteban Ocon and Sergio Perez, who topped the rain hit opening practice, were seventh and eighth, while the top 10 was rounded out by Charles Leclerc (Sauber) and Nico Hulkeneberg (Renault).
Brendon Hartley ended up in 16th position for Toro Rosso ahead of Williams' Lance Stroll and the struggling McLaren pair of Fernando Alonso and Stoffel Vandoorne.
Practice 3 is scheduled for Saturday at 2000 AEST before qualifying at 2300.
Results: Formula 1 Italian Grand Prix Practice 2
| Position | Driver | Car | Time | Gap | Laps |
| --- | --- | --- | --- | --- | --- |
| 1 | Sebastian Vettel | Ferrari | 1m21.105s | – | 27 |
| 2 | Kimi Raikkonen | Ferrari | 1m21.375s | 0.270s | 31 |
| 3 | Lewis Hamilton | Mercedes | 1m21.392s | 0.287s | 31 |
| 4 | Valtteri Bottas | Mercedes | 1m21.803s | 0.698s | 35 |
| 5 | Max Verstappen | Red Bull/Renault | 1m22.154s | 1.049s | 28 |
| 6 | Daniel Ricciardo | Red Bull/Renault | 1m22.296s | 1.191s | 28 |
| 7 | Esteban Ocon | Force India/Mercedes | 1m22.930s | 1.825s | 30 |
| 8 | Sergio Perez | Force India/Mercedes | 1m22.942s | 1.837s | 32 |
| 9 | Charles Leclerc | Sauber/Ferrari | 1m22.965s | 1.860s | 20 |
| 10 | Nico Hulkenberg | Renault | 1m23.063s | 1.958s | 30 |
| 11 | Romain Grosjean | Haas/Ferrari | 1m23.077s | 1.972s | 31 |
| 12 | Carlos Sainz | Renault | 1m23.193s | 2.088s | 32 |
| 13 | Kevin Magnussen | Haas/Ferrari | 1m23.233s | 2.128s | 28 |
| 14 | Pierre Gasly | Toro Rosso/Honda | 1m23.402s | 2.297s | 34 |
| 15 | Sergey Sirotkin | Williams/Mercedes | 1m23.514s | 2.409s | 28 |
| 16 | Brendon Hartley | Toro Rosso/Honda | 1m23.531s | 2.426s | 16 |
| 17 | Lance Stroll | Williams/Mercedes | 1m23.566s | 2.461s | 29 |
| 18 | Fernando Alonso | McLaren/Renault | 1m23.741s | 2.636s | 23 |
| 19 | Stoffel Vandoorne | McLaren/Renault | 1m24.084s | 2.979s | 30 |
| 20 | Marcus Ericsson | Sauber/Ferrari | – | – | 2 |
Results: Formula 1 Italian Grand Prix Practice 1
| Position | Driver | Car | Time | Gap | Laps |
| --- | --- | --- | --- | --- | --- |
| 1 | Sergio Perez | Force India/Mercedes | 1m34.000s | – | 18 |
| 2 | Kimi Raikkonen | Ferrari | 1m34.550s | 0.550s | 28 |
| 3 | Esteban Ocon | Force India/Mercedes | 1m34.593s | 0.593s | 17 |
| 4 | Brendon Hartley | Toro Rosso/Honda | 1m35.024s | 1.024s | 17 |
| 5 | Daniel Ricciardo | Red Bull/Renault | 1m35.207s | 1.207s | 13 |
| 6 | Pierre Gasly | Toro Rosso/Honda | 1m35.438s | 1.438s | 19 |
| 7 | Max Verstappen | Red Bull/Renault | 1m35.665s | 1.665s | 10 |
| 8 | Carlos Sainz | Renault | 1m35.995s | 1.995s | 15 |
| 9 | Nico Hulkenberg | Renault | 1m36.107s | 2.107s | 15 |
| 10 | Valtteri Bottas | Mercedes | 1m36.238s | 2.238s | 8 |
| 11 | Lewis Hamilton | Mercedes | 1m36.546s | 2.546s | 6 |
| 12 | Charles Leclerc | Sauber/Ferrari | 1m36.648s | 2.648s | 10 |
| 13 | Kevin Magnussen | Haas/Ferrari | 1m37.066s | 3.066s | 13 |
| 14 | Fernando Alonso | McLaren/Renault | 1m37.426s | 3.426s | 14 |
| 15 | Romain Grosjean | Haas/Ferrari | 1m37.683s | 3.683s | 13 |
| 16 | Marcus Ericsson | Sauber/Ferrari | 1m37.790s | 3.790s | 11 |
| 17 | Sebastian Vettel | Ferrari | 1m37.867s | 3.867s | 4 |
| 18 | Sergey Sirotkin | Williams/Mercedes | 1m37.929s | 3.929s | 10 |
| 19 | Lance Stroll | Williams/Mercedes | 1m38.253s | 4.253s | 8 |
| 20 | Lando Norris | McLaren/Renault | 1m38.282s | 4.282s | 9 |