MSR used Bend as test session for enduros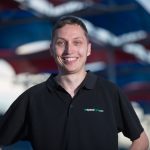 Todd Hazelwood is excited by the potential of his VF Commodore package after electing to use the OTR SuperSprint as a glorified test session following Matt Stone Racing's decision to switch manufacturers mid-season.
The Queensland operation fielded the Holden for the first time in the Virgin Australia Supercars Championship this season after ditching its DJR Team Penske built Ford Falcon, which Hazelwood has struggled to achieve results with during his maiden Supercars campaign.
MSR cited that immediate move to Holden would help prepare the team for a campaign with the new ZB Commodore next year, with Hazelwood describing the decision as a reset for the remainder of the season.
Having driven the VF Commodore in Supercars Championship specification only once previously in a wildcard outing at Queensland Raceay last year, last weekend's meeting was dedicated to learning the new package.
Hazelwood qualified on the final row for both races before going on to finish 25th and 26th respectively.
The race results were secondary to the team's work to understand the VF Commodore ahead of the Pirtek Enduro Cup, according to reigning Dunlop Super2 Series winner.
"Our season for this year has been reset massively and we've had to use the weekend as essentially a test session for Sandown, so we're very much not looking at it and getting worried by the short term results," Hazelwood told Speedcafe.com.
"For us it's all about trying to set up 2019 with the package that we've got right now, and putting a lot of energy and resources into that.
"We tried a few things hoping it would work and some didn't work out, but that's all part of this little team that we've got.
"We're going to do a lot of trial and error at the events to give ourselves our best chance of getting success at the enduros.
"You look at everyone else up and down pit lane they've had six months to refine the package that we got, let alone the years that they've been refining their whole set-up.
"It's very easy to point the finger, but at end of day we've had to start again and here we are.
"We rolled out of practice and straight away you could feel the potential of the car and I think that's the biggest thing.
"The potential is there, we just need to unlock it and get it right. I'm very excited for what the future holds."
Hazelwood believes the work carried out at The Bend will prove beneficial at next month's Rabble.Club Sandown 500 where he will team up with Bryce Fullwood.
The South Australian ran strongly in Super2 last season behind the wheel of the same VF Commodore.
The performances arrived during a weekend that saw him lucky to escape a huge crash, while driving for Brad Jones Racing, in the Supercars qualifying race that was triggered by Jonathon Webb.
"We've rolled out that Triple Eight package for the last two previous years, and we've been in pretty fine form," he added.
"In 2016 we were on track for our first race win there and last year we qualified on the front row in Super2 twice.
"I think that's a good starting base for us and then you only have to add in soft tyre there.
"Obviously, there's a variable of a co-driver, I think for us we'll do a great job there as well."
Hazelwood is set to test at Queensland Raceway next Wednesday.