eSports event to feature at Shannons Nationals finale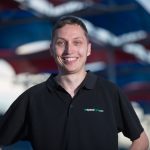 The Confederation of Australian Motor Sport will host its maiden eSports event during the final round of the Shannons Nationals at Sydney Motorsport Park next month.
CAMS has teamed up with Motum Simulation which will provide a number of its industry-leading full motion, professional racing simulators complete with VR technology for the country's best virtual racers to compete on in a brand new event.
It is the first time CAMS will adopt the growing eSports platform on the Shannons Nationals bill.
A test in a CAMS PAYCE Australian Formula 4 car will be on offer to the winner.
The competition held from September 21-23 is open to the public with competitors able to register for qualifying held on the Friday by visiting www.virtualsimracing.com.au.
Popular race simulation platform iRacing will be used with the final race due to be broadcast live via the Shannons Nationals live stream on the Sunday.
"We're really excited to be working with the team at Motum Simulation to have Esports officially on the Shannons Nationals card on 21-23 September," said Shannons Nationals Director Michael Smith.
"Online racing is serious business and something that is giving many young people a chance to show off their driving skills from the comfort of their own home, particularly when you have access to simulators like Motum's, which are fully immersive.
"We are also planning on showing the final race between the top three of the weekend on the Shannons live stream on Sunday to give everyone a chance to see how this newest addition to the Shannons Nationals unfolds."
Several racing series around the road have recently launched eSports series including Formula 1, WRC and Formula E with Supercars set to join the group later this year.