Davison set for back-to-back tests after Bend success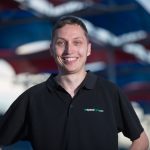 Milwaukee Racing has elected to run back-to-back tests at Winton next week fresh from an impressive return to the top 10 at The Bend Motorsport Park.
The Ford outfit has decided to pair its two remaining test days of its allocation in order to give itself the best shot possible for the upcoming Pirtek Enduro Cup.
Davison will be joined by brother and co-driver Alex Davison for both tests at the Victorian circuit on Tuesday and Wednesday.
Phil Munday's team hasn't tested since the championship's pre-season run at Sydney Motorsport Park in February.
"The test will be good and good for Alex (Davison) as well to get a good feel of the car," Munday told Speedcafe.com.
"It will be a bit like a race weekend really. It gives us a full two days. Normally by the time you get set up you are packing up and going home again.
"Rob Crawford (team manager) was the guy that came up with the idea of putting the tests together and hopefully it will be a good call."
The test arrives following a return to form for the single car Melbourne operation that saw Davison score a pair of seventh place finishes at The Bend Motorsport Park.
It represented the squad's best weekend of the season and a much needed return to form with the outfit the highest placed Ford in Sunday's race.
"It was a great effort by the boys and to be the first Ford across the line felt like a win to me," Munday added.
"It was pretty good to get good results in back to back races. We can get one top 10 but it is usually very difficult to get a second in the next race. The boys and Will did a fabulous job.
"It does take a while to get everybody on the same page and all working together as one group. I feel like we are starting to get that to happen."
While the squad is yet to break into the top five this year, Munday believes a podium can be achieved before the season is out.
"I was a bit optimistic at the start of the season and it is pretty brutal and hard out there," he said.
"It is very competitive but I still think we have got a podium in us the year and maybe more than one."
Milwaukee Racing has also confirmed plans to run a retro livery at next month's Rabble.Club Sandown 500, with the colour scheme to be revealed after next week's test.