ACO backs new LMP3 prototype series for Australia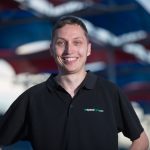 Australia will welcome a new bespoke LMP3 sportscar series in 2019 which has the backing from the Automobile Club de l'Ouest, (ACO) and the Confederation of Australian Motor Sport (CAMS).
An agreement has been reached with Le Mans 24 Hours organisers the ACO to create LMP3 Cup Australia which aims to run a series next year that solely caters for LMP3 prototype sportscars.
The series plans to bring top level prototype racing to Australian shores for the first time and create a pathway for drivers to compete at the Le Mans 24 Hours.
LMP3 Cup Australia is the brainchild of Sydney-based former Formula 1 engineer and Carrera Cup Australia team owner Chris Papadopoulos and Gold Coast racing driver Josh Hunt.
The pair wish to capitalise on a recent growing trend that has seen Australian and New Zealand drivers head to Asia to race LMP3 machines.
Organisers are planning to construct a six round national calendar with the majority of meetings set to feature on the Shannons Nationals bill, which could include races at The Bend Motorsport Park, Phillip Island and Sydney Motorsport Park.
LMP3 Cup Australia, which is yet to appoint a category manager, also has strong desires to host a race at Mount Panorama.
It is anticipated that the series will begin in March/April and run through to November with series bosses targeting competitors from Australia and the Asian Le Mans Series.
The start and end date is designed to allow for Asian teams time to ship their cars to and from Australia either side of the summer based Asian Le Mans Series calendar.
LMP3 Cup Australia has announced that the winner of the series will receive a free entry into the Asian Le Mans Series, which also offers an entry into the Le Mans 24 Hours for the LMP3 class winner.
Run to ACO regulations, each round will feature two 60 minute races with entrants required to field one FIA Silver or Bronze rated driver. Platinum and Gold rated drivers are allowed to race as co-drivers.
Drivers can purchase cars from ACO designated constructors; Adess AG, Ginetta, Ligier (Onroak Automotive), and Norma.
All cars incorporate a carbon fibre monocoque chassis built to FIA approved safety standards.
The powertrain is engineered by Oreca and features a Nissan 420 horsepower normally aspirated five litre V8 engine, and an X-Trac gearbox, which produces lap times roughly two seconds faster than GT3 machinery.
The outlay for a new car is capped at €206,500 ($329,000 AUD) which is significantly cheaper than current specification GT3 machines.
An example of an LMP3 car is yet to arrive in Australia although organisers claim manufacturers have already received orders from prospective competitors.
LMP3 Cup Australia is however set to go head-to-head with the established Australian Prototype Series that currently features on the Shannons Nationals bill, which announced plans in May to welcome LMP3 cars to its series for next year.
While acknowledging Australia has a limited market share and a growing number of categories, Papadopoulos is convinced the series won't dilute the racing scene.
The launch of LMP3 Cup Australia is the third new series set to launch next year following in the footsteps of touring car category TCR Australia and the revolutionary S5000 single seater series.
"Absolutely. There is limited market share. It's been described as 'there's only so many pieces of the pie to go around'," Papadopoulos told Speedcafe.com.
"Where we're different is that we're not trying to, if you continue the metaphor, eat any of the pie that's currently there.
"We know that the vast majority of our interest is coming from the guys that are already racing these cars overseas and they want to be racing here.
"The other thing that opens it up is with the links via the ACO and the Asian Le Mans series, there's lots of scope and, in fact the ACO's going to assist us.
"Our aim is to start bringing some of the Asian drivers over to join our championship. The championships (LMP3 Cup Australia and Asian Le Mans Series) are going to be run with non-clashing calendars.
"We also know that there's many Australians and New Zealanders that are interested in cars and interested in that type of racing and at the moment they're forced to travel for it.
"There are actually several people with orders with Ligier and quite serious discussion with Ligier about placing orders as one chassis manufacturer."
ACO president Pierre Fillon hopes the introduction of LMP3 to Australia will help generate a new wave of sporstcar drivers from the region.
"The LMP3 class of racing is the fastest growing prototype category globally and Australia is well known for creating world class motorsport events," said Fillon.
"Australia has a long, and very successful motorsport history, with drivers from Australia regularly winning on the global stage.
"Indeed, Australia's own Mark Webber won the FIA World Endurance Championship with us in 2016.
"Through the introduction of the LMP3 Cup in Australia we hope to see more Australian drivers racing with us, and potentially we could see an Australian team racing at the highest level globally."
CAMS CEO Eugene Arocca has also endorsed the series' arrival.
"LMP3 will be an exciting addition to the Australian motorsport scene in a category that is popular around the world," said Arocca.
"While a calendar is yet to be confirmed, we believe the Shannons Nationals will be able to host this category in future and will be able to showcase some exciting racing on circuits around Australia."