Zanardi thought DTM top five was a joke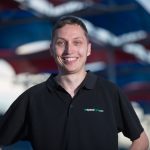 Alex Zanardi thought his team were joking when they notified him of a fifth place finish during a cameo appearance in the DTM at Misano.
The ex-Formula 1 driver and two-time CART champion made a guest appearance with the double amputee driving a specially modified BMW M4 DTM car featuring hand controls on home soil in Italy.
Zanardi, making his debut in the category, qualified last for both races and finished 12th of the 13 classified finishers before he made the most of a wet race on Sunday.
The 51-year-old braved the tricky changeable track conditions making only one stop while others changed from wets to slicks when a dry line emerged before further rain fell.
As a result he climbed to fifth at the chequered flag and due to DTM's in race radio ban was only notified of his final position as the chequered flag fell.
"At first I thought it was a joke when my engineer told me my position over the radio. I did not expect that," said a surprised Zanardi.
"And it is also too much when you look at my performance from a neutral point of view.
"I was very optimistic after my tests, but after the first session, in which I was a distant last, I feared that my fate this weekend may be to drive around well off the back of the field.
"The problem was that the ever-changing conditions did not allow me to continuously build on my experience from session to session.
"Every time I took to the track, everything was different to the previous time.
"With that in mind, fifth place, together with good, competitive lap times, is obviously fantastic. It feels like a gold medal."
The DTM outing is part of program that will see Zanardi drive a BMW M8 GTE at next year's Daytona 24 Hours.
VIDEO: Alex Zanardi shocked by fifth place finish
Starts 1:06:48