Reynolds impressed by Bend turnaround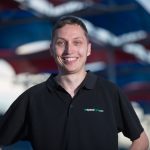 David Reynolds has paid tribute to the hard work conducted by Erebus Motorsport in transforming his car into a podium finisher at the OTR SuperSprint.
The Melbourne squad was forced to rethink its strategy with both its cars heading into yesterday's race after a difficult Saturday saw Reynolds start and finish 17th, while team-mate Anton De Pasquale could only manage 24th in the race.
Erebus Motorsport had been among a group of teams on the pace at the start of the weekend having finished inside the top six in opening practice.
After a strong run to third behind the Red Bull HRT duo in Race 23, Reynolds, who started from 12th on Sunday, admitted the performance downturn forced the team to knuckle down to achieve a solution.
The work carried over to his team-mate who finished 11th after qualifying eighth on the grid.
"Mega job by the Erebus crew," said Reynolds.
"Everyone should be really happy.
You know, we got on the set-up just probably a little bit too late, but if we had that at the start of the weekend might have been a better result.
"Yesterday I was pretty down in the dumps.
"Today we turned it around; we worked really hard overnight, stuck with the set-up and it was a little bit better for quali and then we went more of the same for the race and it transformed the car.
"You work on your balance, it's (change to) springs, rollbars and roll-centre combination, it's all that sort of stuff. It's just what you plug into it."
The improved results also coincided with a much better display in getting off the line which has been an issue for Reynolds in recent races.
The reigning Bathurst 1000 winner credits this to a new clutch fitted to his ZB Commodore.
"I tend to get pretty good starts, except the last couple of rounds have been abysmal," he said.
"We've put a new clutch in and fixed all that stuff, and now I'm back to normal."
Reynolds' visit to the podium was his first since winning Race 16 at Hidden Valley in June.
Sitting fifth in the standings, he hopes a more back to basics approach with set-up will help the team move forward as the season enters the Pirtek Enduro Cup.
"We had progress today and we've got to keep doing it," he added.
"We've lacked a bit of pace the last couple of rounds, which tends to knock your confidence.
"That means you go searching a bit too much in the set-up and that can kind of ruin your pace even quicker.
"It's all about getting back to basics and going from there."
The enduros begin with the Rabble.Club Sandown 500 from September 14-16.