POLL: Did The Bend Motorsport Park deliver?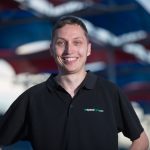 Australia's newest permanent circuit The Bend Motorsport Park well and truly showcased itself to the world after hosting its maiden OTR SuperSprint Supercars round.
Although it has hosted national level motor racing events since it opened this year, the $110 million South Australian facility came under intense scrutiny for the first time as it welcomed Australia's premier series.
Described as a game changer for Australian motorsport, the venue certainly lived up to its billing with its sheer scale and ambition unlike anything seen previously.
The brainchild of multi-millionaire Sam Shahin, The Bend has been designed to be a real challenge for drivers through its mixture of technical fast and flowing corners and varying levels of camber and elevation.
Its 4.95km International layout, featuring 18 turns, provided a true test for drivers and teams who were pushed hard to master the course and certainly exceeded the limits trying to do so.
Sunday's racer winner Jamie Whincup even likened the challenge to that of Mount Panorama given its long and technical lap, while it received universal acclaim from the paddock.
From a spectator point of view any fears the track design was tailored too much to challenging drivers instead of being conducive to good racing were also extinguished.
While Sunday's Supercars race was processional at times, overall, the track provided plenty of opportunities for overtaking and action, which was showcased in all racing disciplines on the bill at the event, and more importantly there were plenty of vantage points to see it.
Fans were also not short of entertainment in-between races with a bumper entertainment line-up that including Formula 1 demos, Jet cars, karting on the venue's brand new bespoke circuit, and even aerobatic aeroplanes taking off and landing on the start/finish straight.
It offered an ideal sideshow to the main act.
The circuit's location in the small town of Tailem Bend, more than an hour from Adelaide, had been a concern through its gestation, but spectators voted with their feet as 41,250 attended the event over the three days ,which exceeded organisers' 30,000 three-day estimate.
However, like any new facility there are teething issues and areas for improvement.
Shahin himself admits his team and track delivered an event that was 95 percent good and is determined to learn from the mistakes.
Access proved to be a major issue for the circuit which will be high on the priority list to rectify.
A higher than anticipated crowd coupled with only one road into and out of the venue that joins the highway produced huge bottlenecks and extensive delays.
Much of the feedback surrounded far minor criticisms that can be easily fixed and issues that over time will naturally disappear.
The most publicised being the dust around the venue that crept onto the race track when drivers ran off the road.
"I think we've got 95 percent of it right," Shahin told Speedcafe.com.
"There is improvement everywhere, in all aspects of the facility, managing the track, managing the wonderful number of attendees that came here to support the event.
"It was always going to be a learning experience. But I have to just step back today and just take a moment to reflect on how much we got right, rather than what we didn't get right.
"I think we would've scored a reasonable pass.
"Obviously, the circuit has performed to expectations.
"I'm glad we've got a tick for that.
"We've stress tested this facility but, there is no real way of knowing how a venue will cope with tens of thousands of people, without putting through tens of thousands of people through.
"Again, I apologise to anybody who was inconvenienced. We'll make sure we fix it by the next big event."
It is easy to forget that The Bend Motorsport Park is still a venue in its infancy and will mature in time to become an important beacon for Australian motorsport.
This week's Pirtek Poll wants to know what you thought of The Bend Motorsport Park? Did it deliver?