Work to do for DJRTP after toughest weekend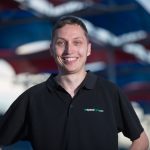 Shell V-Power Racing managing director Ryan Story says his squad has 'quite a bit of work to do' after admitting rivals Triple Eight 'smashed' them at the OTR SuperSprint.
The reigning teams' champions struggled to adapt to the new 4.95km Bend Motorsport Park circuit with its difficulties in extracting pace from its Falcons further highlighted in Race 23.
Scott McLaughlin started and finished 10th while Fabian Coulthard came home 14th from 13th on the grid.
It followed a respective sixth and a 14th scored by the duo in Saturday's race.
To compound its lack of results, arch rivals Triple Eight dominated the OTR SuperSprint having scored back-to-back front row lockouts which they converted into two victories.
A win in Race 22 followed by second place on Sunday has also seen Shane van Gisbergen turn an 89 point deficit into an 19 point championship lead over McLaughlin.
Story claims the weekend was the operation's toughest of the year as the squad failed to claim a podium from a round for the first time since the Sydney 500 in December 2016.
"We just need to dig deep and work hard and we haven't done a good enough job this weekend," Story told Fox Sports during Sunday's race.
"The guys next door (Triple Eight) have absolutely smashed us. We've got quite a bit of work to do but the enduros are a bit of a reset for us and we're looking forward to it.
"This weekend is basically the toughest weekend we've had for the year so far.
"We've had terrific consistency up until now so we just need to get back on it and work on these longer races and do the best we can."
Story pinpointed an inability to turn on the hard compound tyres as an area that hampered his team throughout the weekend, alongside the Bend Motorsport Park's challenging layout.
"It's interesting. When we had the test day at the start of the year with the hard tyre we really struggled to turn it on," he added.
"(We're) just really struggling to get the rear tyre to work and then when we bolted the softs on we were right up there at the start of the year.
"It was a real indication that we struggle a little with the hard tyre on a smooth surface, we just haven't been able to overcome it. We've been chasing it all weekend.
"I think the unpredictable nature of this particular circuit just caught us out a little bit."
McLaughlin felt the balance of his car had improved throughout the weekend but was unable to find the set-up sweetspot.
"We tried every trick in our book this weekend, and unfortunately we just didn't get there," said McLaughlin.
"I'm proud of everyone here, we never stopped trying and kept soldiering on despite the struggles. By the end of the race we'd found a decent balance, so we'll wait a year until we can come back and see if we've cracked it."
The squad will now begin preparations for the Pirtek Enduro Cup opener at the Rabble.Club Sandown 500 from September 14-16.