Grid penalty for Stanaway after qualifying incident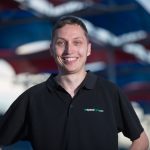 Stewards have issued a three place grid penalty to Richie Stanaway following an incident during Armor All Qualifying for Race 23 at the OTR SuperSprint.
The Tickford Racing driver was judged to have impeded James Golding (Garry Rogers Motorsport) at Turn 18 in the 20 minute session.
A stewards report stated that Stanaway left the circuit on the exit of Turn 17 and rejoined carelessly in front of Golding.
As a result, Stanaway has been issued with a three place grid drop.
Having only qualified 27th out of a 28 car field, the penalty will carry over to the Rabble.Club Sandown 500 held from September 14-16.
"After receiving a request for investigation from Garry Rogers Motorsport, the DRD conducted a post-Session investigation into an allegation that Car #56, Richie Stanaway, impeded Car #34, James Golding, at Turn 18," read a stewards report.
"Following a review of Judicial Camera footage from Car #34, Car #56 was found to have left the circuit at the exit of Turn 17 and then carelessly rejoined on the racing line impeding Car #34 on the entry to Turn 18 in breach of Schedule B2 Article 2.1.1.
"Following an admission to the breach, the Stewards imposed a progressive 3 Grid Spot Penalty on Car #56 to be served from Race 23 onwards. As Car #56 qualified in 27th position for Race 23, 2 of the 3 Grid Spot penalties will carry over to the next Event and beyond if necessary."
Stanaway was also involved in an incident with the sister GRM Holden of Garth Tander which wasn't investigated by the stewards.
The former appeared to nudge the #33 Wilson Security ZB Commodore through Turn 9/Turn 10 and Tander looked to move towards the #56 Rabble.Club FGX Falcon further around the circuit.
Race 23 of the OTR SuperSprint is due to begin at 1340 local time.