Whincup takes pole but faces investigation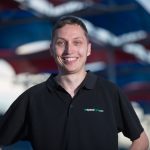 Jamie Whincup has scored the maiden Armor All pole position at the OTR SuperSprint but faces a post-session investigation after an eventful qualifying at The Bend Motorsport Park.
The Red Bull Holden Racing Team driver posted a 1:50.13s in the final moments of the 15 minute session to take his 78th career pole at the new 4.95km circuit.
However, Whincup's success is under a cloud with the seven-time champion the subject of a post-session investigation after an incident earlier in the running.
The reigning champion lost control and spun at Turn 12. He tried to rejoin the track in front of an unsighted James Golding (Garry Rogers Motorsport), who had to take to the dirt to avoid Whincup's slow moving Holden.
"(It was) really, really challenging conditions (it was) so hard to get a lap in here, let alone a quick one," said Whincup.
"(I) made a meal of it, the first one, but then the second set of tyres, the car hooked up, we got a nice clean run and feels like it's been a long time between drinks so I'll take this one for sure.
"SVG just dropped a wheel, dirt, and then I speared off (at Turn 12). And then I went to go again, ran off the track again, but then we came in, second set of tyres was fantastic.
"I couldn't see a thing and I waited for, it felt like five minutes, waiting, waiting, and eventually you just have to go.
"Was that James Golding?," he added. "I owe him a beer Sunday night."
Triple Eight completed a front row lock out as Shane van Gisbergen's benchmark in the final run proved 0.15s slower than his rival.
The Kiwi was involved in a moment in the dying stages of the hit-out that saw him slow in front of championship leader Scott McLaughlin, who was on a flying lap.
McLaughlin, who has been struggling to piece together a lap at the new track, ultimately ended up in fifth spot.
Stewards are also conducting an investigation into the matter.
"We never got to do the lap but I think, at the end of the day we were going to have an attempt there are trying to do it on our second run," said McLaughlin when asked about the incident.
"That is what it is, he (van Gisbergen) may not have seen what was going on, but he rushed to get in front of me before the start of the lap. I don't know what he's thinking.
"I don't know about that one. On the in lap? There was yellow flags," Van Gisbergen added, when quizzed about the incident.
The second row was filled by the Nissan Motorsport duo of Michael Caruso and Rick Kelly, the latter had topped the times after the first qualifying runs.
Tickford Racing showed signs of strong pace with three of their four cars inside the top 10.
Mark Winterbottom headed the Ford quartet in sixth, while Chaz Mostert was seventh and Cam Waters eighth.
The top 10 was rounded out by Brad Jones Racing's Tim Slade and Garry Rogers Motorsport's Garth Tander.
The Bend Motorsport Park's technical layout continued to catch out a several big names with David Reynolds (Erebus Motorsport) only managing to claim 17th spot.
However, the sister Shell V-Power racing Ford of Fabian Coulthard was mired in 22nd in front of the two Mobil 1 Boost Mobile Racing Commodores of Scott Pye and James Courtney.
Meanwhile, fan favourite Craig Lowndes fared even worse with the Tribe Eight driver down in 25th on the grid.
Macauley Jones (Brad Jones Racing) was the top wildcard runner in 19th spot.
The first ever Supercars race at The Bend Motorsport Park is due to begin at 1620 local time.
Results: Supercars Armor All Qualifying
| | | | | | |
| --- | --- | --- | --- | --- | --- |
| 1 |   1  Red Bull Holden Racing Team | Jamie Whincup | Holden Commodore ZB | 1:50.1371 | |
| 2 |  97  Red Bull Holden Racing Team | Shane Van Gisbergen | Holden Commodore ZB | 1:50.2943 | 00.1572 |
| 3 |  23  Industrial Athlete Racing | Michael Caruso | Nissan Altima | 1:50.6964 | 00.5593 |
| 4 |  15  Castrol Racing | Rick Kelly | Nissan Altima | 1:50.7826 | 00.6455 |
| 5 |  17  Shell V-Power Racing Team | Scott McLaughlin | Ford Falcon FG/X | 1:50.8069 | 00.6698 |
| 6 |   5  The Bottle-O Racing Team | Mark Winterbottom | Ford Falcon FG/X | 1:50.9940 | 00.8569 |
| 7 |  55  Supercheap Auto Racing | Chaz Mostert | Ford Falcon FG/X | 1:51.0415 | 00.9044 |
| 8 |   6  Monster Energy Racing | Cameron Waters | Ford Falcon FG/X | 1:51.2175 | 01.0804 |
| 9 |  14  Freightliner Racing | Tim Slade | Holden Commodore ZB | 1:51.2219 | 01.0848 |
| 10 |  33  Wilson Security Racing GRM | Garth Tander | Holden Commodore ZB | 1:51.2454 | 01.1083 |
| 11 | 230  Milwaukee Racing | Will Davison | Ford Falcon FG/X | 1:51.3326 | 01.1955 |
| 12 |   8  X-Convenience – Mobil Racing | Nick Percat | Holden Commodore ZB | 1:51.4100 | 01.2729 |
| 13 |  21  Team CoolDrive | Tim Blanchard | Holden Commodore ZB | 1:51.4329 | 01.2958 |
| 14 |  18  Preston Hire Racing | Lee Holdsworth | Holden Commodore ZB | 1:51.4775 | 01.3404 |
| 15 |  19  Tekno Autosport | Jack Le Brocq | Holden Commodore ZB | 1:51.4849 | 01.3478 |
| 16 |  34  Wilson Security Racing GRM | James Golding | Holden Commodore ZB | 1:51.5193 | 01.3822 |
| 17 |   9  Erebus Penrite Racing | David Reynolds | Holden Commodore ZB | 1:51.5602 | 01.4231 |
| 18 |   7  Plus Fitness Racing | Andre Heimgartner | Nissan Altima | 1:51.5823 | 01.4452 |
| 19 |   4  DrillPro Racing | Macauley Jones | Holden Commodore ZB | 1:51.5901 | 01.4530 |
| 20 |  99  Erebus Motorsport | Anton de Pasquale | Holden Commodore ZB | 1:51.6773 | 01.5402 |
| 21 |  78  Team Harvey Norman | Simona De Silvestro | Nissan Altima | 1:51.8424 | 01.7053 |
| 22 |  12  Shell V-Power Racing Team | Fabian Coulthard | Ford Falcon FG/X | 1:51.8455 | 01.7084 |
| 23 |   2  Mobil 1 Boost Mobile Racing | Scott Pye | Holden Commodore ZB | 1:51.8571 | 01.7200 |
| 24 |  25  Mobil 1 Boost Mobile Racing | James Courtney | Holden Commodore ZB | 1:51.9839 | 01.8468 |
| 25 | 888  Autobarn Lowndes Racing | Craig Lowndes | Holden Commodore ZB | 1:52.1635 | 02.0264 |
| 26 |  56  RABBLE.club Racing | Richie Stanaway | Ford Falcon FG/X | 1:52.1903 | 02.0532 |
| 27 |  42  Arcoplate Racing | Kurt Kostecki | Holden Commodore VF | 1:53.9438 | 03.8067 |
| 28 |  35  Bigmate Racing | Todd Hazelwood | Holden Commodore VF | 1:54.2403 | 04.1032 |