NASCAR looks to Supercars for inspiration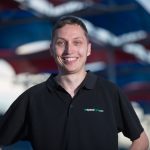 NASCAR bosses have headed to this weekend's OTR SuperSprint on a fact finding mission as America's leading race category looks to Supercars for inspiration to improve its systems.
Steve O'Donnell, NASCAR's executive vice president and chief racing development officer, and John Probst, its vice president of innovation and racing development, have travelled to Australia to open dialogue and forge a relationship with Supercars.
The duo met with high ranking Supercars management and spoke with several team bosses on Friday at The Bend Motorsport Park to learn more about the category's successes and share ideas from their own NASCAR series.
It is understood discussions with Supercars included topics such as the officiating of events and its television broadcast.
THE FINAL RACE OF THE 2023 REPCO SUPERCARS CHAMPIONSHIP ON ONE OF THE WORLD'S BEST STREET CIRCUITS. GO ALL IN AT THE VAILO ADELAIDE 500, CLICK HERE TO BUY TICKETS
"For us we are looking ahead at where we want to go (as a series) and our OEM partners have spoken about what is unique about Supercars," O'Donnell told Speedcafe.com.
"I think it was always in our best interest to take a look and talk to some folks about what is important in this series and everybody has been incredibly open.
"We are looking at our Gen-7 car and engine and how that evolves over the years and there are a lot of similarities here to what we do so I think sharing practices is always good."
O'Donnell sees similarities between the V8-based Supercars and NASCAR series and believes there is plenty the latter can learn from Australia.
Both championships are set to welcome the Ford Mustang to its top tier next year.
"The two series are very similar in terms of what is being raced and what consumers are buying," he said.
"It was interesting to find out how the Mustang project was put together. I'm excited to see how that will play out."
Having never witnessed an event in the flesh, O'Donnell and Probst were particularly impressed by Supercars' presentation and are hopeful NASCAR's relationship with the championship will grow.
The pair, who will return to the track today, are keen to reciprocate the favour and invite Supercars management to future NASCAR events.
"I really have been impressed. I think all the operations are incredibly professional," O'Donnell added.
"It is really interesting to see what is being shared between teams and the relationships they have, it's been awesome.
"I'm not sure yet (what we will take away from it yet) but there are a lot of things that we have looked at.
"Most importantly, the openness and willingness to share ideas and relationships we are able to build."
O'Donnell did however downplay the possibility of NASCAR ever holding a race in Australia including a road course event at The Bend Motorsport Park in the future.
A NASCAR sanctioned event was held in the country at Calder Park's Thunderdome oval, courtesy of the 1988 Goodyear NASCAR 500, which ultimately proved to be a one-off race.
"I think we are probably a long way from that," he added when asked about a race in Australia.
"When you look at this series they have got a pretty good thing going which is awesome.
"Some of the owners in NASCAR are racing over here as well which is great.
"For us, part of what makes NASCAR work is seeing all forms of motorsport work and that is part of our visit too to see what we can do to share some practices."
The OTR SuperSprint continues today with a final 45 minute practice at 1035 ahead of Armor All Qualifying at 1315 followed by a race at 1620 local time.