TRACK GUIDE: Winterbottom describes a lap of The Bend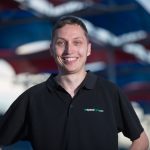 Tickford Racing's Mark Winterbottom takes Speedcafe.com on a lap of the new Bend Motorsport Park circuit ahead of this weekend's OTR SuperSprint.
Supercars will contest its first event at the recently constructed 4.95km layout at Tailem Bend.
Start/Finish Straight
It is quite a long straight and I think we will do 270km/h. It goes uphill but then flattens off before a big stop into Turn 1.
Turn 1
The stop is not as long as I thought it would be. You brake a lot deeper than what it looks so it should be a good passing spot.
It is wide and there are no references as there are no walls. It is big open corner.
It starts the lap but it is quite an important corner to get the lap time.
Turn 2-3
This section is a bit fiddly. There is a lot of undulation there which the television probably won't show. It is on-camber for Turn 3 which is quite a long run out of there so the exit is really important.
Turn 4-5
The run to Turn 5 is quite quick and the hardest part is the fact that it is very open and there are once again no reference points.
You are turning in a bit like when you go through the Hayshed at Phillip Island, it is kind of blind and there is no brake markers or walls so it is very wide and hard to get a reference point to tip in.
It's fifth gear and quite a high speed corner so it will be the bravest will go the quickest there.
It drops away a bit with regards to the camber and it will draw you out.
Turn 6       
Turn 6 is quite a weird corner because it is a long left-hander and it comes back on itself and the camber drops away on that too. When people look at it on the television it will be hard for them to see the technicalities of what the track is doing.
For a track that has been purpose built they have built a lot of character into it.
It is a tough, long corner, off-camber and if you get stuck behind someone it will exaggerate the length of it.
You will get punished if you have a bad exit. Turn 6 will be an overtaking spot.
Turn 7-8-9-10
It is a blind corner. It is fourth gear and again where you race tracks that have reference points you are running blind there.
You are trying to pinpoint the car and it has to be millimetre perfection but you have no visibility of where you are heading.
If you mess up one part of it then it will exaggerate. If you get Turn 8 wrong, Turn 9 is going to be slow and Turn 10 is going to be really slow and Turn 11 will be even worse. This is the hardest section of the track for sure. This is where you will see the lap time vary among drivers.
Turn 11
There is slip after Turn 10 and then it rise up a bit to Turn 11. There is a lot happening to the car there and will upset the balance. You have got to nail all four corners in one sequence.
A good car will be rewarded in those corners whereas a bad car will be punished. This will be the critical key sector of the lap.
Turn 12
Out of Turn 12 it is like Sydney Motorsport Park a bit, the exit here has no run off. Every straight, although it looks short, is longer than most tracks we go to.
Turn 13
Turn 13 is on-camber and then off-camber, it changes mid corner. It actually goes uphill and there is quite a bit going on there.
How much aerowash we will get there is the stuff simulation doesn't tell you. Any mistake someone makes will offer an opportunity to pass at the next corner.
Turn 14
This is very tight and if you are going to make a move there you will have to be a lot quicker.
Turn 15 -Turn 16 
This is a bit of a pokey section. Turn 15 feels like it tightens up a bit more than you would anticipate. You get a nice rhythm through there.
Turn 15 and Turn 16 are still corners you cannot treat it as a kink. That looks easier on a track walk then when you are in a car.
Turn 17-18
I think Turn 17 will be an overtaking spot for sure. If someone passes at Turn 18 there could be a over and under on the run out of there.
It (the circuit) should create good racing but the big unknown is how the tyre degradation will affect things.
A Lap of The Bend in pictures (photos supplied by Matthew Paul Photography)