Q&A: Promoter explains S5000 series plans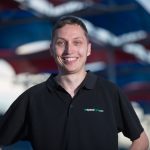 Following the announcement of S5000's new car set to shake up the Australian single-seater landscape, Speedcafe.com editor Tom Howard sat down with Australian Racing Group director Matt Braid to discuss the company's bold 2019 plans.
CLICK HERE for the full S5000 announcement.
CLICK HERE for an extended photo gallery.
SPEEDCAFE: The S5000 project has been a long drawn out affair that has seen two series constructing cars; why have you elected to go to an all-new design? 
MATT BRAID: There were two prototypes which wasn't ideal but I can see how that eventuated. It was a case of getting feedback on both from a technical side and from stake holders. I think what became very apparent was from a cost and development point of view the Swift (Formula Thunder 5000 car) looked to be the best option but unfortunately it wasn't able to meet CAMS and FIA homologation.
That necessitated looking at a different approach and we got a hold of the Onroak chassis and that became very quickly a favourable option. It met all the safety standards and it had the halo; love it or loathe it, it is here to stay.
Mixing between the cost effectiveness, the ability to homologate and the ability to adapt to what we want do, we have come up with a very safe, fast car that is aesthetically pleasing.
SPEEDCAFE: Did you feel a modern look to the car was the right way to go because the two prototype cars both had elements from the past in them?
BRAID: Beauty is in the eye of the beholder and I still think everyone involved originally in the project and even now has different views on the way the car should look.
I was more in line with the original retro approach through the Supercars prototype because in some cases harking back to retro looks is quite good for the fans, but equally some commercial partners, stakeholders and drivers don't necessarily like the retro look.
I think the look might have been an issue with young drivers even though the car was very modern in its design.
I think we are quite proud that we have got a brand new chassis with the latest racing equipment. The fact we have been able to retain the heart and soul of the category, which is to be raw and loud, almost the anti-Formula 1, is the key component.
And I think we are pretty pleased with the outcome.
SPEEDCAFE: Is the engine and gearbox the same from the Formula Thunder 5000 car?
BRAID: Effectively yes, but the components have been updated. We still believe the engine and Holinger box is the best option from a cost and maintenance point of view. We did revisit both of those components but we are pleased that they are the right way to go.
SPEEDCAFE: Open wheel racing has struggled in Australia compared to touring cars; how is S5000 going to be different?
BRAID: I think when open wheel racing last went head-to-head with touring cars back in the original Formula 5000 days, those cars were absolutely spectacular.
Back in the 1970s there were full grandstands watching these things. They were obviously quite dangerous and the guys driving them were true gladiators and I think that appealed to fans.
When you move into the future, after Formula 5000 died, Formula Brabham came along and that was quite successful in its own right but it didn't rival touring cars in popularity. It ran for a good few years but it ran its course.
Other formulas have tied into what might be perceived as a global formula and not necessarily an entertaining formula.
When Supercars and Chris (Lambden) hatched the idea it was about returning to open wheelers being entertaining, loud and spectacular and I think that has been a bit lost recently.
S5000 is almost the Australian take on what an open wheeler should be; loud, fast, challenging, safe and good looking and I think that is what we have.
SPEEDCAFE: Do you see the category targeting young drivers or is this for the gentleman racer?
BRAID: I think we will see that come out. From what I can see it is too fast for gentleman drivers. I think we will see wealthy gentleman racers actually owning cars to put young guys in.
The interest is there from people wanting to buy cars and wanting to run guys and girls in them.
When I say younger I don't think there is an age limit but an element of professionalism is required to run these things. It could well see some Supercars-esque drivers that want to have play down to some young drivers coming up through the ranks.
Rusty French (Tickford racing owner) is on record in saying he wants to come on board and put some young drivers in there.
I think we will see a mix of some name drivers and some up and comers who have demonstrated themselves in categories overseas and want to have a play.
There could be some international drivers, we have had approaches from the US, South America and Asia.
Outside of Formula 1, IndyCar and the latest Formula 2 car, this is the most powerful open wheeler you can get in the world.
These cars will be more challenging to drive without driver aids.
If you cannot get budget for F1, F2 or IndyCar then this is the next most powerful.
The feedback has been phenomenal from prospective entrants.
SPEEDCAFE: Does a car exist yet and has it conducted any running?
BRAID: The first chassis arrives next week and will be assembled. We are three or four weeks away from having the first car built. It is not a concern for us because all the components already exist it is not a case of development because everything has already been done from that front.
We are confident that given the systems in the car we don't expect any issues. There will certainly be shakedown testing.
We are not expecting a significant testing program given this car's components have been well tested.
SPEEDCAFE: When do you foresee a first shakedown?
BRAID: I reckon that will be in October at some stage. We would like to shake it down and look at debuting it on track for an exhibition run when and where suits. We would like to do that this year if we can.
SPEEDCAFE: In terms of cost what is the outlay for one of these cars?
BRAID: I think it will be around the $300,000 market and that will be ready to race. We are looking at deposits being placed, but we are ordering the various components and we will assemble locally to order.
SPEEDCAFE: With regards to the format of the calendar when will you know how that looks?
BRAID: Historically Supercars have a had an interest in S5000 and we believe there is still goodwill there. We will have discussion with them but equally they want to see what is going on with the category.
SPEEDCAFE: Does Supercars still have some management rights to the category?
BRAID: I think the rights to the category are with the Australian Racing Group but the level of partnership with Supercars still needs to be decided.
We had a discussion a few weeks back and we will have more once their calendars are finalised. They need to see us running the category properly and they don't want to back it if it doesn't exist.
It makes sense that we show them the final car specification, the initial orders we have and the expected field for 2019.
Once we give them confidence that the category is going forward then the interest crystallises.
SPEEDCAFE: ARG has recently announced plans to set up TCR Australia and now this which is an awful lot of work. How do you go about successfully achieving that and do you feel you can pull it off?
BRAID: I think so. We have some good people in place and we have got resources coming onstream so we are very confident.
It is a lot of work and still a lot to be done but we have got some very  passionate people working on both categories and we look forward to bringing it to fruition in 2019.
SPEEDCAFE: Do you see S5000 and TCR as a package?
BRAID: When we established the Australian Racing Group the intention was to be a supplier of top level support categories to promoters.
TCR and S500 will work together at some events and not others by the nature of the circuits.
It makes sense from a package point of view when negotiating with promoters.