New S5000 car revealed ahead of 2019 launch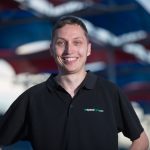 A new Formula 5000 series is set to launch next year following the reveal of a brand new FIA approved single seater race car which will head up Australia's latest foray into open wheel racing.
Championship organisers the Australian Racing Group (ARG) have today announced that the S5000 single seater category has received approval and the category management rights from the Confederation of Australian Motor Sport.
Originally released as Super5000, the series now known as S5000, following a late name change, has endured a difficult birth.
Initially two rival Formula 5000 projects, Formula Thunder 5000, headed up by Chris Lambden, and Supercars' version, Super5000, went head-to-head last year before merging to form one series.
ARG, which also plans to launch an Australian TCR touring car series next year, has secured ownership of the S5000 category, although the level of involvement from Supercars is yet to be determined.
The green light arrives following months of work to secure a technical package which is now centred around an all-new state-of-the-art modern looking V8 powered Formula 5000 car, described as Australia's answer to IndyCar.
A move to design and construct a new race car was required after both the Swift chassis-based Formula Thunder 5000 and the Oscar Fiorinotto retro designed Super5000 prototype cars failed to meet FIA/CAMS homologation, according to organisers.
The all-new race car is based around a carbon-fibre monocoque built by French firm Onroak-Ligier and powered by a five litre 560hp V8 Ford Coyote engine that is fitted to a Holinger six-speed sequential transaxle.
The drivetrain, which will power 17 inch rear wheels, is an updated version of the system originally used by the Formula Thunder 5000 prototype.
It will also feature the FIA mandated halo safety device seen in Formula 1 and Formula 2 this year which will see the category become the first to use the latest safety system in Australia.
A version of the $300,000 car is yet to turn a wheel but Speedcafe.com has been told that there are plans to begin construction of the first car next week, ahead of a proposed shakedown and exhibition run in October.
"I think the (retro) look might have been an issue with young drivers even though the car was very modern in its design," ARG director Matt Braid told Speedcafe.com.
"I think we are quite proud that we have got a brand new chassis with the latest racing equipment.
"The fact we have been able to retain the heart and soul of the category which is to be raw and loud, almost the anti Formula 1, is the key component.
"The first chassis arrives next week and will be assembled. We are three or four weeks away from having the first car built.
"We are confident that given the systems in the car we don't expect any issues. There will certainly be shakedown testing.
"We are not expecting a significant  testing program given this car's components have been well tested."
Plans to form a calendar for next year are yet to be revealed although the series hopes to feature at Supercars events and alongside TCR Australia where possible.
Braid says the series is targeting young aspiring drivers and already established professional drivers and has already received approaches from prospective entrants from the US, South America and Asia.
"From what I can see it is too fast for gentleman drivers. I think we will see wealthy gentleman racers actually owning cars to put young guys in," said Braid.
"The interest is there from people wanting to buy cars and wanting to run guys and girls in them.
"When I say younger I don't think there is an age limit but an element of professionalism is required to run these things. It could well be some Supercars-esque drivers that want to have play, down to some young drivers coming up through the ranks.
"There could be some international drivers, we have had approaches from the US, South America and Asia.
"Outside of Formula 1, IndyCar and the latest Formula 2 car, this is the most powerful open wheeler you can get in the world."
The new S5000 category will be overseen by series co-founder Lambden, who has been installed as category manager.
After initially revealing his Formula 5000 concept in 2016, Lambden is finally pleased to see his idea come to fruition.
"It's been an interesting pathway over the past three-and-a-half years to get to this point, but what we're now going to be able to offer Australian motorsport is actually better than I had ever thought we could achieve," said Lambden.
"The 2018 FIA-spec Onroak-Ligier tub, amalgamated with the V8 engine and Holinger rear end, makes up a totally contemporary S5000 car that is going to blow people away.
"It will retain the modest downforce and mechanical grip elements that we have aimed for, so it's going to be fast and safe and, at last, we have a serious, spectacular, high-level open wheeler category – perhaps Australia's version of IndyCar"
Meanwhile, CAMS CEO Eugene Arocca believes S5000 will prove to be a welcomed addition to the Australian motorsport landscape.
"We are excited to announce ARG has secured the commercial rights to manage S5000 and look forward to seeing the first cars on track in the near future," said Arocca.
"The ARG team have put forward some very exciting plans to ensure this open-wheel category is a great success."
CLICK HERE to view a gallery of the all-new S5000.
VIDEO: Take a look at the all-new S5000 car
S5000 Car Specification
The S5000 car, based on the French-designed Onroak-Ligier carbon-fibre chassis, has been designed with strength, safety and economy cost as priorities. As such, most components are single, specified, control parts – including the Ligier safety cell (including front/rear/side crash structures).
In the power department, the S5000 car come with a sealed 560hp 5-litre V8 engine, Holinger gearbox/transaxle, control wheels/tyres/suspension and electronics. The car carries full 2018 FIA safety certification.
CHASSIS
Carbon composite monocoque – 2018 FIA compliant, produced by Onroak (France)
Dimensions
Length 4900mm
Width: 1950mm
Wheelbase: 3000mm
Suspension
Double wishbone, front and rear
Pushrod adjustable ride, front/rear
Front/rear adjustable anti-roll bars
JRi three-way adjustable shock absorbers
Steering
Rack and pinion
Collapsible steering column
Brakes
4 piston monobloc calipers
Vented steel rotors
FIA Approvals
2018 FIA front crash structure
2018 FIA rear crash structure
2018 FIA cockpit halo
2018 FIA side and front intrusion panels
2018 FIA-spec 6-point harness
2018 FIA-spec 6Kj wheel tethers
2018 FIA headrest
2018 FIA-spec extractable seat
ENGINE
Fuel-injected 5.0-litre quad-cam V8 Ford Coyote 'Aluminator'
Prepared to Super5000 spec by InnoV8 (Brisbane)
Max horsepower: 560hp
Max torque: 460 ft-lbs
Max rpm: 8000rpm
Electronics/dash: MoTeC
TRANSMISSION
Holinger MFT six-speed sequential transaxle, with pneumatic paddle change, includes bespoke (front) drop gear set for lower engine height and thus lower car centre of gravity
Holinger-designed bell-housing with integral oil tank.
Gearbox/bellhousing include suspension pick-up points and shock-absorber mounts
WHEELS & TYRES
15 x 17 inch rear, 15 x 12 inch front wheels
Rear tyre: 680/405-15
Front tyre: 570/290-15
CHASSIS INTEGRATION/DESIGN/ENGINEERING
Developed by ARG. Implementation by Borland Racing, Melbourne