VIDEO: Whincup reveals bizarre pre-event injury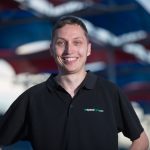 Jamie Whincup is confident he will be good to race at this weekend's OTR SuperSprint despite suffering a bizarre injury in the lead up to the event.
The seven-time Supercars champion revealed a cut above his left eye in a video posted on the Red Bull Holden Racing Team's Twitter account.
Whincup says the injury was caused by running into a roller door, admitting he was' bloody lucky' not to have suffered a more serious injury.
"There's no good story, I wish I had some crazy crash on my jet-ski or something (but) I ran into a roller door," Whincup explained.
"(I was) bloody lucky. (It) Could've taken an eye out, it's just a cut. It should be 90 percent for the weekend, but I'm all good."
It looks like the battle for Lowndesy's co-driving skills in 2019 has reached a new level 🙈😜 #vasc #redbullholden pic.twitter.com/1yfaOrljuQ

— Red Bull Holden (@redbullholden) August 21, 2018