Lowndes to refocus on 2019 plans after The Bend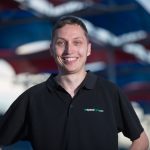 Craig Lowndes is keen to start mapping out his race programs for 2019 after this weekend's OTR SuperSprint at The Bend Motorsport Park.
The fan favourite has already confirmed a return to Supercars racing in next year's Pirtek Enduro Cup with Triple Eight after announcing in July he will step down from the category on a full-time basis at the end of the year.
Lowndes has revealed a desire to go GT racing and contest the Le Mans 24 Hours in addition to his enduro and Supercars television commitments, but admits he is yet to lock in any drives.
A busy schedule that has included Supercars races at Queensland Raceway and Sydney Motorsport coupled with a trip to America, has taken priority over his future plans.
However, the 44-year-old, who is also eager for a run at the Goodwood Festival of Speed, is now hoping to start seriously looking at next year's prospects.
"To be honest, no at this point," Lowndes told Speedcafe.com when asked if his 2019 plans had progressed.
"With the trip over to the US and Sydney Motorsport Park, we have been away for about 10 days.
"It (plans for next year) has not stalled but we haven't progressed anything any further.
"Once we get Tailem Bend out the way we will hopefully have some breathing space to start looking at what that does look like."
Lowndes heads to South Australia this week fresh from a visit to California where he was involved in the re-opening of the famous Highway 1 road.
The event included a parade lap around the iconic Laguna Seca circuit behind the wheel of a 1970 Chevrolet Corvette Stingray.
His experience has left him yearning for an opportunity to race at the venue where team-mate Jamie Whincup will ironically make his WeatherTech SportsCar Championship debut in a Mercedes-AMG GT3 next month.
"The Highway 1 tour started with a parade lap around Laguna Seca and I've got to say I was impressed," said Lowndes of Laguna Seca.
"The television, like Bathurst, doesn't give it the elevation credit. It's an amazing track.
"You hear a lot about it and to have now driven around it, it is really impressive and it's a circuit you definitely like to go back and have a good race at.
"Now that I've been there I will look at what is feasible and possible in the future.
"I know Jamie is going over there in a month's time and I'm a little bit jealous now. I'd love to go back and have a go."
Looking ahead to this weekend, the Triple Eight driver is relishing the prospect of racing a brand new permanent circuit in Australia at The Bend Motorsport Park.
Unlike his team-mates Whincup and Shane van Gisbergen, Lowndes is yet to lap the new $110 million facility at Tailem Bend.
To assist preparations, he has sought knowledge from c0-driver Steven Richards, who raced the circuit in the Australian GT Championship earlier this year.
"I love new tracks because it comes down to the driver that best gets their head around the track the fastest, and for the teams to come up with set-ups," added Lowndes.
"We have been busily looking at onboard footage to try and get our head around the lefts and rights and once we get over there we will look at the texture of the track.
"I've had a good chat with Steven Richards, and he has raced there with the GT cars, to see what the tyre wear is like.
"Looking at the onboard (footage) there is a lot of change of direction. The main straight is there but it seems to be lots of long fast corners.
"We have got to make sure we get the tyre to work and for the car to do what we need it to do.
"That side is going to be a challenge, but it is the same for everyone, we have just got to get our head around it."
Lowndes will log his first laps of The Bend during Friday's opening practice which is scheduled for 1045 local time.