FEATURE: Brock reviving MG in Australia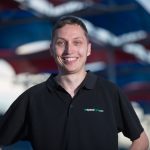 Two iconic names in motorsport have this year combined in unlikely circumstances to launch an all-new project on Australian circuits.
Those entities are Brock and MG which have joined forces for a factory backed effort in the Jacuzzi Spas Australian Production Cars Series (APCS).
In a project that has taken almost two years to come to fruition, James Brock, son of the late nine-time Bathurst 1000 winner Peter Brock, is heading up MG's motorsport revival in Australia.
Having taken a backseat in motor racing since outings in V8 Utes, the Dunlop Super2 Series (2011) and most recently Australian GT with Erebus Motorsport in 2012, the famous Brock name is back on the race track.
Brock, 42, is the team principal and driver of MG Motorsport Australia which, in conjunction with his own Brock Race Engineering outfit, has developed a 1.8 litre turbo-charged MG6 PLUS to contest the growing Australian Production Car Series.
MG has a rich history in motor racing and particular touring cars in Britain having re-entered the British Touring Car Championship in 2001 as a factory team for a stint, before returning again in 2012 with the MG6.
Its heavily race modified two-litre version of Brock's MG6 remains a force in the championship today.
However, this new dawn for MG in Australia aims to help establish the brand having only relaunched in the country last year.
To show its commitment to Australia and motorsport, MG's now Chinese owners SAIC Motor Corporation Limited have fully funded the project.
This arrives at a time where manufacturer programs at any level of motorsport are few and far between.
"I suppose it started, a year and a half ago. A guy by the name of David Whitehead, an old family friend contacted me and asked me if I would be interested in being involved in a production car program," Brock told Speedcafe.com.
"He had a contact in MG Head Office when they first started (back in Australia).
"He was putting something together and so he basically needed someone who could do all the hands-on stuff, build the car and drive and bits and pieces.
"So he kind of thought of me, because I tend to do all that stuff and when MG relaunched their brand in Australia, we came along and helped them out with the launch and they decided that they wanted to go ahead and do the program.
"It's wholly and solely funded by MG and SAIC.
"I deal directly with their various people, in various departments to get the information and the parts and all the bits and pieces that I need.
"They are dealing with and handling all the PR and marketing side of things as well, so they're an integral part of the program, absolutely, wouldn't have happened without them."
The project is being treated by the brand as a toe in the water experiment in Australian motorsport, with the Australian Production Cars Series seen as a cost effective platform for showcasing the marque and changing people's perceptions.
According to Brock a brand new MG6 race car can be purchased at a cost of $30,000 for competition in the APCS.
"I think they (the owners) are well aware, that the history that the brand has and, not only obviously in Europe, but in Australia," explained Brock.
"It's a very strong brand in Australia, as far as, people do love it and it has a big history in motorsport and still has.
"They're (MG) the largest car club in Australia, it's got a really active community still, even though that they haven't really sold cars here for quite some time.
"I think they (MG) have a really good understanding, that (motorsport) is a really core part of the history of the brand and I think they'd like to really touch on that too and bring some of those people who love the brand, back to it and also maybe inspire some newcomers.
"I have no idea how long the program is going to run for, as far as into the future, but at this point in time, it's working for them.
"The Australian Production Car Championship is a really good platform because the cars are absolutely representative of what they make.
"Nothing else (championship/series in Australia) were considered in the initial stages. It (APCS) was just the right fit.
"When you have a manufacturer essentially supporting the program financially, it has to make sense financially and let's be completely honest, most motor racing does not make sense financially for a company like that to get involved.
"It's not like a V8 Supercar, where you basically hang a body off a controlled chassis and specifically with this car, and it's been great as far as I'm concerned, we really don't have to modify much at all.
"Everything is MG that you see out on the racetrack apart from a couple of key little parts of the car. It's a good way, I think, to prove the quality of the product.
"It's now a Chinese manufactured vehicle, and without a doubt, and they are absolutely aware of it, that there is some perceptions that they need to overcome in the marketplace and this was actually a good way to do that."
While MG and Brock have shown their commitment to the project, it is perhaps pertinent to look at how the car has performed on the track now two rounds of the series have been completed.
Competing in the lower Class E (Compact), Brock leads the standings with four class wins having enjoyed a perfect season opener at Sandown in May followed by a second and third at Queensland Raceway last month.
Granted the competition has been sparse in the class, it has proven to be a strong start for the new program.
"It's Class E, we're not talking it up as an outright car for the races, but we knew that from the word go, we knew with almost certainty we could win the class without a doubt," said Brock.
"It's been fantastic, it's been bullet-proof so far and I would imagine looking at it from what I've seen, it will continue to be so."
Looking to the future, Brock says the program has attracted some interest that could fuel an expansion, and hopes his exploits with MG will help entice more manufacturers to join the series.
"Some people have shown some real interest in it," Brock added.
"Existing MG owners and people who are out there racing other MG products have said that they really like the look of the car and it's cheap, they're not expensive machines.
"You'd essentially go and have a brand new race car for $30,000, which is pretty good.
"There is some potential there, we don't have anything firm yet but we will just wait and see.
"But at the moment, really the focus to us, is just to get out there and continue to promote the brand and do well in this season."
The Australian Production Car Series continues at Winton from August 31-September 2.