DJRTP begins work on McLaughlin Mustang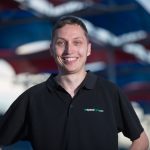 Shell V-Power Racing has begun preparing Scott McLaughlin's Ford Mustang race car which will contest the 2019 Virgin Australia Supercars Championship.
The Queensland squad is carrying out modifications on a brand new base chassis which has recently been built by PACE Innovations and delivered to the team in the last fortnight.
It is anticipated that this chassis will be the first Mustang race car which will be assigned to McLaughlin.
The team is also in the process of transforming an existing Falcon chassis, last raced in 2016 by Fabian Coulthard, into a Mustang prototype car that will carry out December's crucial Supercars homologation testing.
"The (new) chassis has come straight from PACE and it will be our first Mustang race car," Story told Speedcafe.com.
"It (the project) is all progressing quite nicely and the design work is still going on in earnest on the Mustang project.
"We are coming along and on track to meet our deadlines and have the car ready to do some on track evaluation before the VCAT test (V8 Supercars Aerodynamic Testing)."
DJR Team Penske is working in conjunction with Ford Performance in America to design and manufacture the Mustang that will be the first two door coupe to race in Supercars.
Story says the manufacturing process of panels is well underway as the project aims to reach a November target to have a Mustang completed for testing.
"Basically when you are working on these projects you work backwards from the fixed date and that is the VCAT aero test and we work backwards to fit everything in there," added Story.
"There are already some components that are going through manufacture now that are essential we have enough panels and pieces to have six or seven Mustangs on the grid in 2019."
Seven Mustangs are now expected on the grid next year following the news this week that Matt Stone Racing will switch from Ford to Holden.
Tickford Racing is set to field four Mustangs with the squad working closely with DJRTP and Ford Performance on the project.
The operation has already built one new chassis in anticipation of the Mustang with another new build to follow.
It will also convert two Falcon chassis into Mustangs.
Meanwhile, 23Red Racing is planning to fit Mustang panels to its Falcon chassis for next year.