Heimgartner: The Bend will require a different driving style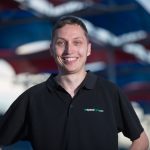 The Bend Motorsport Park will reward a different type of driving style according to Andre Heimgartner after cutting his first laps of the new circuit this week ahead of the OTR SuperSprint.
The Nissan Motorsport driver jumped aboard a Kumho V8 Touring Car Series Ford Falcon FG, prepared by MW Motorsport, to learn the recently opened 4.95km circuit before next weekend's inaugural Supercars meeting.
Heimgartner was joined by Nissan team-mates Rick Kelly and Michael Caruso as they looked to log valuable miles in an older specification Supercar at the venue during Thursday's OTR SuperSprint support category test day.
The test offered a rare opportunity for a host of Supercars drivers to lap the track without contravening Supercars testing regulations.
It also saw the 23-year-old reunited with the car he contested the 2014 Dunlop Super2 Series.
Having now experienced the circuit, Heimgartner believes its fast and flowing nature will require a change in driving technique to achieve the desired results next weekend.
"After the first session all three of us were scratching our heads regrading the challenge the track offers, but after the second run we had much more of an idea," Heimgartner told Speedcafe.com.
"It is a good challenge and it is something that should even it out a bit. It is very technical.
"There is a long right hander (Turn 7,8,9 and 10) that is tricky and it has got lots of corners that are all about the flow.
"It is very different to other stop/go tracks that we race on most of the time.
"It is going to reward a different type of driving style and whoever can adapt the quickest to it will be the fastest.
"Outright laps will be fine but I'm not sure how the racing will be there as the track is so flowing.
"Going off the GTs that were there earlier in the year there was not a lot of overtaking but hopefully we can create more spots.
"It will be interesting for sure."
Prior to the OTR SuperSprint, Heimgartner will swap a V8 Supercar for a Hyundai Excel when he takes part in the Cryo Cycle Excel Enduro Cup at Phillip Island this weekend.
The Kiwi will team up with Australian GT Championship leader Fraser Ross for 40 lap race on Sunday.
"I'm really looking forward to this weekend. It's certainly going to be different from the Supercar – it should be a lot of fun," he added.
"Sunday's 40-lap race will be interesting and I can't wait to share the wheel with Fraser against a field of 52 other cars."
The field will also feature an entry for Porsche GT3 Cup Challenge driver Chelsea Angelo and Toyota 86 Racing Series racer Jaylyn Robotham.