Dunlop set for The Bend unknown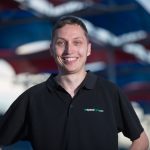 Dunlop is confident a maiden visit to The Bend Motorsport Park with Supercars 'won't present anything out of the ordinary' but will take a cautious approach.
The current Supercars control tyre is yet to complete any running at the new state-the-art venue at Tailem Bend which will host the inaugural OTR SuperSprint next weekend (August 24-26).
Dunlop has nominated its soft compound tyre for the event, the most durable tyre from its Supercars allocation, as a safeguard while the manufacturer comes to understand the demands of The Bend Motorsport Park's 4.95km International layout.
Teams will be issued with an event allocation of 24 soft tyres to be used across the weekend that will feature a 120km race on Saturday followed by a 200km encounter on the Sunday.
The tyre manufacturer's Supercars operations manager Kevin Fitzsimons is not expecting any issues but admits the circuit, which opened in April, is an unknown quantity.
"It is a bit of an unknown," Fitzsimons told Speedcafe.com.
"We will be running the soft tyre there the same as what we run at Pukekohe and Bathurst until we get some concrete information.
"We have got some hearsay from other categories and other tyre manufacturers that have run there but to go there for the first time we are being cautious.
"We didn't want to go there with the supersoft tyre and find out the wear rates are extremely high.
"There has been some significant running on it since it was opened earlier this year so it has rubbered up a bit now.
"We have just got to get the first one under our belt and get some information and then we can look at what we do for the following year.
"At the moment softly, softly is the approach.
"I'm not expecting anything out of the ordinary and I'm treating it the same as Pukekohe, which also has areas of high speed and high load for a reasonable amount of time on the tyre, but it shouldn't be as bad as what we see at Phillip Island.
"There is one spot (on the track) there where they are leaning on the rear tyre pretty hard for consecutive corners."
While the circuit will present drivers and teams a fresh challenge to master, Fitzsimons is equally looking forward to attacking a new track with the Dunlop rubber.
"The drivers are going to have to be right on their game and so too will the engineers and that transpires on to us as well," he added.
"I'm really looking forward to it. It will be a challenge for everybody and we will have to see who does the best job.
"It is a challenge for us but we have to work with what we got."
The OTR SuperSprint will begin this time next week with opening practice scheduled for 1045 local time on Friday August 24.