Pit stop focus yielding results for Erebus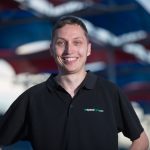 A focus on improving pit stop procedures is yielding results for Erebus Motorsport after clocking the fastest stops during the Red Rooster Sydney SuperNight 300.
The Melbourne outfit has focussed on improving all of its procedures including pit stops as it looks to sharpen up what can be a critical variable in races.
General manager Barry Ryan says his squad has been analysing all aspects of the pit stop this year from driver entry and exit to the mechanics of the pit stop itself.
Team members have undergone extra training at the workshop while the squad has refreshed all of its kit prior to Darwin in June to help eliminate errors that can ultimately decide races.
The extra focus is providing results as David Reynolds spent a total time of 34.03s in his pit bay at Sydney Motorsport Park during the three stops in the 300km race, which was fastest in the field according to the team.
"We know to win races more consistently and to capitalise on our qualifying positions we needed to pick up our game in the pits and in all areas, including wheel changes, the fuel flow and the drivers getting down to the speed limit," Ryan told Speedcafe.com.
"Every single part of the stop we have been focussing on.
"The amount of data in the car gives you the full picture you need so you just have to interpret it right.
"That side is fairly easy but in the workshop we have been doing more training with the guys making sure their wheel changes are more efficient and minimising mistakes.
"We have made sure we have got all the best equipment we could get too.
"The progress has been good and it is definitely not easy to get the crew to do the job as efficiently as they can.
"It's good to know if we do a good job in the stops we'll be in the top few."
Erebus will aim to put their improved pit stop procedures on show again when the championship reconvenes at the OTR SuperSprint at The Bend Motorsport Park from August 24-26.
Reynolds is sitting fifth in the standings while rookie team-mate Anton De Pasquale occupies 20th position.
The squad conducted a rookie day test with De Pasquale at Winton on Tuesday where it evaluated a new steering rack that the team has been developing for 18 months.
Next weekend's OTR SuperSprint is the final round of the Pirtek Pit Stop Challenge which will determine the top four that will do battle for a $20,000 prize at the Supercheap Auto Bathurst 1000.