TCR Australia to open tyre tender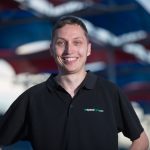 TCR Australia is seeking formal tenders for its control tyre supplier as the series ramps up preparations for its 2019 launch.
The global two litre touring car format was given the green light by the Confederation of Australian Motor Sport under the guidance of new promoters the Australian Racing Group (ARG).
With plans to form an eight round calendar for next year underway, the series is now aiming to secure an official control tyre manufacturer.
ARG says more than six brands have already signalled their interest in becoming the series' tyre provider for the platform's control 18 inch wheels.
TCR series across the world have welcomed an array of tyre brands with the WTCR running on Yokohamas while championships in Germany and Italy use Hankook and Michelin rubber respectively.
"The interest in TCR Australia has been quite high and very encouraging from a range of different markets – from driver and team enquiry to events and potential category supporters," said ARG director Matt Braid.
"This has been no different in the tyre world. As soon as we announced, we had no less than six companies approach us with their interest in the global touring car class.
"We've decided to go to tender to get a complete picture from the respective brands to see what really is on offer and see what styles of partnership we can form in our first year and beyond.
"Of course, the commercial side of the deal will be paramount. We want the best outcome for all of the competitors and teams, but we are also very interested in the tyre and its specifications. A whole range of factors will come into play for this.
"I'm really excited to assess the interested suppliers' tenders and look forward to building a strong, lasting partnership."
The tender application process is due to close on August 31.
TCR Australia is aiming to reveal its inaugural calendar later this year featuring a variety of events run in conjunction with Supercars and Shannons Nationals events.