WAU, Andretti worked crazy hours on ZB developments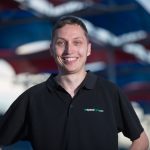 Engineers have been working crazy hours both in Australia and at Andretti Autosport in America to improve Walkinshaw Andretti United's ZB Commodores, according to co-owner Ryan Walkinshaw.
The Holden squad has been making full use of its increased resources with its American partners assisting in development projects that have been led from the team's Victoria base.
Today the team is evaluating some of the fruits of its labours having waited to conduct its first in-season test at Winton until parts were ready to be trialled.
It is not the first time IndyCar giant Andretti Autosport has attributed some of its resources into helping the team, having developed components which were debuted at the Albert Park meeting, where Scott Pye scored a breakthrough win.
Walkinshaw refused to go into detail on the current developments for the Mobil 1 Boost Mobile Racing Holdens, but is hopeful the updates will provide results in the remaining events of the season.
"I'm not going to talk about that sort of thing (development parts) but there's a lot of work going on behind the scenes," Walkinshaw told Speedcafe.com.
"The engineers have been absolutely flat out working crazy hours to be honest, everyone is very, very motivated to keep improving.
"There are a couple of things the Andretti guys have been working on with us as well which has been good, it's all led from here (in Australia), but we've sort of pushed some of the development hard labour onto them.
"They've got a great team of guys over there, they've been working really, really well, so far so good.
"At the end of the day, the results are going to do the talking, that's something we will see hopefully in the closing stages of this season."
Since welcoming Andretti Autosport as a partner last year Walkinshaw says the relationship between the two entities has blossomed with knowledge being shared to benefit both parties.
"It's great. I get on personally very, very well with Michael (Andretti), we've talked the whole time and I've been in the US quite a lot for a couple of other business projects I've been working on, so I make sure I always stop by and see them," he said.
"They're a family team and we're a family team, it's a really, really nice mix.
"Their department guys are really, really solid. Clearly they've got some pretty talented guys there.
"It's also been good from their aspect, they've learned some stuff from us as well that they're taking over to their side.
"I don't think necessarily they thought they would do so going into the relationship, that's been good as well and encouraging."
After a strong start to the season, WAU has slipped to sixth in the championship standings which has coincided with a period where the vast majority of rivals outfits have tested.
Walkinshaw is however pleased to see his team improve on a woeful campaign last year, but admits the operation is far from the finished product.
"It wasn't hard to be better than last year so I'm definitely happy that there's been an improvement; last year was pretty tough for everyone," he added.
"The new partnership has been great with the guys from Andretti United, we've brought on some really good new people towards the end of last year and we've still got a lot of work to do.
"Nobody is expecting it to be a light switch you can just flick on and all of a sudden you're going to be winning every single race, it takes time.
"Things are heading in the right direction."
The squad will head to South Australia next week for the OTR SuperSprint at the new Bend Motorsport Park from August 24-26.