Tickford eyeing benefits from Stanaway rookie day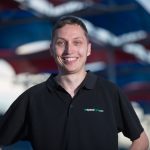 Tickford Racing says it has a big program for Richie Stanaway planned as the operation looks to benefit from a rookie day for the New Zealander at Winton.
Stanaway is due to conduct the second of his permitted three rookie days at the Victorian venue, which is set to be populated by a number of Supercars and Super2 teams today.
The Ford squad has struggled for pace and consistency this year which has seen the outfit resort to testing during race weekends in a bid to unlock pace from its Falcons.
Given its deficiencies this season, Stanaway will be tasked to complete valuable work during his rookie test to help unearth improvements that can be implemented across Tickford's four cars.
The Kiwi will be joined by Tickford young gun Thomas Randle who will assist with the program while completing a test in his Super2 Falcon.
"We have got a lot of stuff to get through," Tickford team manager Chris O'Toole told Speedcafe.com
"It is always about both programs and you try and tick off as many boxes as you can. You can't just exclusively use it for Richie. It is definitely a team day.
"We have got a few bits to work through and the enduros are coming up, so there is some stuff to work through for that.
"I think Richie is starting to find his feet and it is easy to forget that he is a rookie who hasn't driven on most of these tracks."
Another team with plenty to work through at Winton is Walkinshaw Andretti United which will complete its first in-season test of the year.
The Holden outfit has delayed its test day until it was ready to test significant components that have been developed by the team.
"They (test days) are always important as you get very few opportunities to test," co-team principal Mathew Nilsson told Speedcafe.com.
"We chose to delay ours to make sure it is a really solid test for what we want to try.
"We are excited by it and will work through the program, and try a few things."
The duo will share the track with Brad Jones Racing as it logs its first in-season test day for its ZB Commodores for Tim Slade, Nick Percat and Tim Blanchard.
Erebus Motorsport will also be present as it carries out the final rookie day for Anton De Pasquale.
The Melbourne squad has elected to trial a new in-house designed steering rack that has been 18 months in the making.
Also set to conduct a rookie day test is Garry Rogers Motorsport's James Golding.
The track will also welcome Super2 entries from Brad Jones Racing, Garry Rogers Motorsport and Eggleston Motorsport.