Plenty of positives for De Pasquale after final rookie day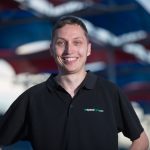 Anton De Pasquale believes there are plenty of positives to analyse from the latest raft of developments tested during a rookie day run at Winton.
The Erebus Motorsport driver was tasked to evaluate a new in-house designed steering rack among other items during his final rookie outing at the Victorian circuit.
De Pasquale has been searching for a better feel in his ZB Commodore with the new steering rack, that has been 18 months in the making, expected to improve the car's handling.
The 22-year-old confirmed that progress was made in the area with the team now armed with significant data to review following a trouble free test.
"It was good," De Pasquale told Speedcafe.com.
"We tried a few different things today including the new steering rack which we have been trying to develop. It gave us a lot of information to try and improve on what we got.
"We had a plan and we stuck to it throughout the day and ticked off some items. Hopefully we will see the benefits of that in the next couple of races.
"There was a point where we did actually make a good step forward and some the issues we have been having went away, so there are some positives to take out of the day.
"We have been running into a few little issues with what we have got and we are trying to find a cure for that.
"There is still a lot of work to do but we have a lot of smart guys behind the scenes that know what they are doing, so all the data we collected today we will sift through in the next couple of days."
Team-mate David Reynolds was present to log his permitted 10 laps in the car as per Supercars regulations to offer his feedback on development items.
"David did a few laps and he jumped in to feel some of the development that we have done, so the team has feedback from both of us and we both said the same thing so that's good," De Pasquale added.
De Pasquale was among several Supercars testing at Winton including main game Holdens from Walkinshaw Andretti United and Brad Jones Racing.
Both teams took the opportunity to evaluate new components at their first in-season test of the year.
Garry Rogers Motorsport and Tickford Racing conducted rookie day tests for James Golding and Richie Stanaway respectively.