TCR Australia keen for Adelaide 500 series debut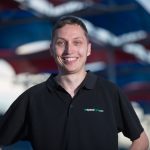 TCR Australia is eyeing a potential series debut at the Adelaide 500 next year as talks to forge an eight round calendar for the new touring category advance.
The global two litre touring car class is set to burst onto the Australian motorsport landscape in 2019 after series promoters the Australian Racing Group (ARG) received official approval from the Confederation of Australian Motor Sport (CAMS) earlier this month.
TCR Australia has confirmed it is planning an eight round series featuring race meetings held on the support bill at Supercars and Shannons Nationals events.
While championship organisers stated wishes to begin the debut season in late 2019, ARG has revealed that it is set to hold talks with organisers to appear at the season opening Adelaide 500 (February 28 – March 3).
The Adelaide 500, which is not promoted by Supercars, has in the past been keen on showcasing new categories at its events having first welcomed the Stadium Super Trucks to Australia in 2015.
Last year the Asian Audi R8 LMS Cup made its debut on the support bill.
Former Supercars chief Matt Braid, who heads up ARG, believes the Adelaide 500 would be strong way to start the series and is confident TCR Australia would be ready to launch at the event.
"Definitely, there has been inquiries (from the Adelaide 500)," Braid told Speedcafe.com
"I haven't spoken directly (to organisers) but we need to have that conversation and take it further.
"I think timing wise that is fine and this is a good event to be at.
"The government and the promoters are big on new categories.
"The beauty about TCR is the cars are easy to get, they are either a week away or a month away by air or sea. Once we have entrants who are keen we can get cars pretty quickly."
Braid has confirmed that preliminary discussions have been held for TCR to join Supercars events next season, but is waiting for the latter to finalise its calendar before further discussions can be held.
"We want to get a calendar up because everyone wants to know where we are running," Braid added.
"There are multiple conversations happening with Supercars and Shannons Nationals. A combination would be great.
"We want to do eight rounds which would be ideal, maybe a few with Supercars and a couple on the Shannons Nationals bill.
"We're having conversations with Supercars and the independent promoters too.
"I think we will have an opportunity at two or three non-Supercars promoted rounds and then we would like to work with Supercars for their own promoted rounds."
The emergence of TCR in Australia has drawn comparisons to when Super Touring arrived Down Under in the 1990s, which resulted in a conflict between Supercars.
However, TCR Australia has made it clear that it wishes to be seen as a support category rather than a series with desires of going head-to-head with Supercars.
It is this reason that Braid believes the series will work in an already crowded marketplace and avoid mirroring the struggles TCR has found since launching as a rival to the British Touring Car Championship in the UK this year.
He admits that starting any new series is a difficult process but has been encouraged by interest shown from prospective drivers and manufacturers.
"There have been a lot of categories in this market and some competitors are rightly sceptical, which you can understand," he added.
"We definitely cannot over promise and under deliver and we want to do it right.
"We are getting lot more support than we thought (from manufacturers and potential competitors).
"We thought they were conversations we could have but the fact they are reaching out to us first is very pleasing.
"The fact it (TCR UK) has run separately over there is a reason why our preference is not to run separately against Supercars.
"We want to be a support category.
"We are not looking at going head-to-head, we are not looking at separate events, although we will run on the Shannons Nationals program.
"I think with the UK scenario you have manufacturers tipping money into the BTCC and similar marques racing in TCR, so it is a bit of a conflict. Hopefully we can try to avoid that here."
Alongside moves to form a calendar, TCR Australia will now step up its discussions with potential entrants as it builds for a 2019 launch.
Currently there is one example of a TCR machine in the country, courtesy of an Audi RS3 TCR car which was sent to Australia last year for promotional activities.