T8 support crucial in MSR move to Holden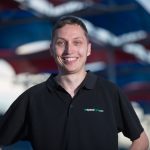 Matt Stone Racing has highlighted a Triple Eight support package as the key reason for switching brands from Ford to Holden.
The Queensland operation announced this morning that it will be ditching its Ford Falcon for a Holden VF Commodore with immediate effect, beginning at next weekend's OTR SuperSprint.
On top of that decision the squad will purchase a new Triple Eight built ZB Commodore for 2019 as part of a deal that will include a valuable support program with Triple Eight, which begins next year.
The operation had been set to upgrade to the all-new Ford Mustang next year but the support package offered from Triple Eight ultimately lured them into switching back to Holden.
A manufacturer change arrives after a difficult maiden season with a DJR Team Penske built Falcon FGX for reigning Super2 Series winner Todd Hazelwood.
Stones says the team has received little in the way of support from DJRTP, who have previously stipulated that is not in the business of offering support packages to rival entries.
"We have tried various approaches this year, obviously we were struggling with the Fords that we haven't really been able to understand the set-up of compared to the Holdens we usually have," Stone told Speedcafe.com.
"It was a lot to adapt to. The soft tyre, the longer races, the twin spring and being a rookie team and rookie driver really compiled on top of that.
"We have tried a few different angles but the only way to shortcut the development is to jump onboard with a team that is already there.
"We could do it ourselves but it would take a lot of time and money.
"We have trialled the Triple Eight support model in Super2 and it worked quite well for us so that is why we are heading back down that path.
"The Mustang being a nice car was very appealing but when it comes down to it in Supercars land, it is less about the panels on the car but more about the team behind it.
"We've identified this year we really need to get that technical partnership to get us up to speed in the main game. If we went down the road with the Mustang that wasn't an option.
"At the end of the day we needed a new car for next year be it the ZB Commodore or Mustang so it put us in position to make a very unbiased decision and weigh up all the options.
"You really just can't compare to Triple Eight support for a team like us.
"I think it is much of a muchness in regards of the cost to go racing between the two marques."
Stone says the success fellow one car team Tekno Autosports has had with its Triple Eight package was further proof the move to Holden is the right pathway for his team.
He also believes the move will effectively offer Hazelwood a team-mate to benchmark himself against which has proved to be an issue this year.
"The support package only starts from next season and it is of the same context as to what Tekno Autosports receives," added Stone.
"We see how it has been proven over the years with them and Triple Eight and with our own experience in Super2 and that is the justification.
"Our biggest struggle this year is not having a team-mate and not having a set-up understanding of the car we are running.
"Those are the two aspects that the technical package really hits on the head.
"We get the benefit of being aligned with other cars so we virtually have a team-mate and we get a good understanding of the equipment we will be running next year."
The squad is now busily preparing a VF Commodore for Hazelwood to run in the remaining events of the season in a move designed to help the team prepare for next year.
"There is a little bit to do there but we see it as preparation for next year," Stone said.
"We are starting on that path now. We are under no illusions. We look at running the VF at all the remaining rounds as giving us a good insight into what we will be running next year."
The team will assess its Super2 plans for next year and has not ruled out running a Falcon FGX in 2019.
This season has seen the outfit field a Falcon FGX for Bryce Fullwood before switching the young gun to a VF Commodore at Townsville.
"That (Super2 for next year) is bit up in the air," he added.
"In previous years we have modelled ourselves around the three cars.
"We dialled back this year while we focussed on expanding into the main game.
"The three car system is where we would like to get back to so whether that means it is two Holdens and a Ford, we are not 100 percent sure on that."