Matt Stone Racing ditches Ford for Holden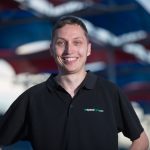 Matt Stone Racing will switch from Ford to Holden with immediate effect and has signed a technical support package with Triple Eight to run the ZB Commodore in 2019.
The Queensland squad will also ditch its current DJR Team Penske Ford Falcon in favour of a Triple Eight built VF Commodore for the remainder of the current season, starting at next week's OTR SuperSprint at The Bend, with Todd Hazelwood behind the wheel.
It was expected that the operation would switch to the all-new Ford Mustang for 2019, but has instead signed a support deal with Triple Eight to run a Commodore for Hazelwood.
MSR has struggled for results in the Falcon it purchased for the 2018 season with the reigning Dunlop Super2 Series winner sitting last of the full-time drivers in the standings.
The squad also switched its Super2 driver Bryce Fullwood to the VF Commodore from the Falcon FGX at Townsville last month.
Team owner Matt Stone says the dramatic switch of manufacturers arrives after months of analysis.
"The team have decided to run a ZB Commodore in 2019 and feel that racing the VF model starting at The Bend will better prepare us for next year's season," said Stone.
"We are excited about this new partnership, which will see us form a technical support package with Triple eight next season."
Hazelwood is confident the change will help the one car team move forward in the long run.
"I believe this new direction will help us move forward as a team, this was no overnight decision and I feel very confident with the changes put in place," said Hazelwood.
"I am fortunate that I have very smart and successful people in my corner who were able to help analyse the best direction for the team.
"I'm very excited to be back in my Super2 winning car for the remainder of the season.
"I cannot thank everyone involved at MSR for making this switch possible and I'm really looking forward to racing at The Bend for the first time."
The squad will prepare its VF Commodore for the inaugural OTR SuperSprint at The Bend held from August 24-26.