Hazelwood: I need to take care of my career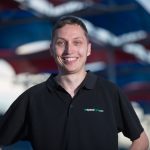 Todd Hazelwood has revealed there was an element of taking care of his Supercars career in Matt Stone Racing's decision to switch from Ford to Holden with immediate effect.
The Supercars rookie has endured a difficult graduation to the main game with the Queensland operation that has struggled to unlock speed from its DJR Team Penske Falcon FGX purchased last year.
Hazelwood is sitting last of the full-time drivers in the standings having achieved a best result of 18th from the 21 races to date.
The run has prompted the team to announce it will revert to a VF Commodore for the remainder of the season, beginning at the OTR SuperSprint from August 24-26.
MSR will also run a ZB Commodore next year with the assistance of a technical package from Triple Eight.
The outfit had been expected to upgrade to the all new Ford Mustang for 2019, but the opportunity to work with Triple Eight proved too good to pass up, according to team owner Matt Stone.
Hazelwood played an active role in the decision admitting that ensuring he makes the most of his Supercars opportunity was among the key factors in the move.
"It is very rare that you see these sort of decisions made," Hazelwood told Speedcafe.com.
"At the end of the day it is a business decision.
"It is very easy to make an opinion of it all but at the end of the day there are commercial partners involved and it is a multi-million dollar business.
"There are a lot of things at stake and more importantly my career which I have got to take care of.
"I have got to make sure that while I have my time in Supercars I make the most of the opportunities that I have.
"Fortunately I have got a close knit team around me that is able to help me to do this.
"I know this year has not gone to plan and there have been multiple factors as to why.
"This decision is all about trying to move this team forward.
"It doesn't just affect me; it affects everyone at work, the guys are putting in hours and hours in weekend after weekend and simply getting no results.
"This is all big motivational push for everyone and hopefully this will help us move forward in the future."
While Hazelwood is moving back to the familiar surroundings of the VF Commodore from next weekend, he is under no illusions that the switch will have an immediate impact on his results.
However, the South Australian is confident the unusual mid-season swap of manufacturer will prove beneficial for next season.
The squad is now busily preparing the VF Commodore for the inaugural Supercars round at The Bend Motorsport Park.
It last fielded a VF in the main game during a wildcard outing for Hazelwood at Queensland Raceway last year.
"I can't wait to get back in the VF as we had great success with a similar platform over the last two seasons in Super2," he said.
"I'm under no illusions. This is no silver bullet and its not going to pull us from the back of the grid to the front, but hopefully this helps us prepare for 2019."
Hazelwood is hoping to step up his preparations for the OTR SuperSprint when he assists Matt Stone Racing by attending a test for the squad's Kumho V8 Touring Car Series runners at The Bend on Thursday.
The series is on the support bill for next week's meeting.
Although set to be stationed on the sidelines only, he believes there is plenty to learn ahead of the Supercars round.
"I can't wait for The Bend," he added.
"I have been keeping close tabs on this circuit program ever since it got announced.
"It is great to see the final product. It is very cool to be racing there and as a team we are hoping going to a new circuit would be no better opportunity for this transition.
"I have just been studying the available onboard footage I can find on the internet.
"I will be going down with the team this week for a test with their Kumho Series cars.
"I will help the team with that and keep a close eye on the set-up characteristics and try and take away as much as I can, and look at onboard footage from the drivers."