Supercars continuing to assess 2019 tyre proposal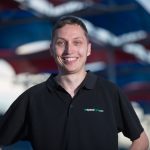 Supercars CEO Sean Seamer says the championship is open to ways to improve its show as the series continues to assess a proposal to increase tyre allocations for next year.
Last month a move which could see an extra two sets of Dunlop control tyres per round issued to each entry was tabled to the Supercars Commission.
Entries currently utilise 108 sets of tyres during race weekends across 16 events this year.
The initiative would effectively eliminate the use of worn rubber in practice sessions when teams are forced to preserve tyres throughout the season through the use of tyre banks.
THE FINAL RACE OF THE 2023 REPCO SUPERCARS CHAMPIONSHIP ON ONE OF THE WORLD'S BEST STREET CIRCUITS. GO ALL IN AT THE VAILO ADELAIDE 500, CLICK HERE TO BUY TICKETS
Supercars signed off the current tyre bank system as a way of cost containment for the teams.
However, it is understood the championship benefits from a relatively cheap deal for its Dunlop control rubber compared to rival categories.
An increase in tyre allocation for the season would come at an extra cost to the teams, albeit a small proportion of the overall race budget.
The proposal is still being assessed by Supercars with Seamer revealing that a decision of this nature requires time to evaluate and is not expecting an update until calendar and rulebooks are confirmed for next year.
Although, he does see the positives and negatives of the proposal.
"First of all, Dunlop has done a fantastic job this year," Seamer told Speedcafe.com
"Full credit to them. Last year, I think failures dominated too much of the rhetoric around the sport, and they've done a really good job this year.
"We are always looking to improve the show.
"If there are ways that we can do that with Dunlop, then of course we're going to assess it and look at it.
"There won't be any update on that until the rulebook is finalised on October 31 though, because you've got to play out all of the potential and intended consequences of decisions like that, and it just takes time.
"What we do so well is that we put on the biggest door to door racing in the world, at very good budgets comparative to other series.
"We have to be protective and careful of that. But it's finding the harmony between the show and the costs, and that's the knife edge we all walk."
Triple Eight is among a group of teams in support of the tyre proposal and remains hopeful it will be approved by the Supercars Commission.
"It comes down to the fact that if teams are prepared to pay for them, that's the ultimate deciding factor," team manager Mark Dutton told Speedcafe.com.
"I think more and more teams are coming around to seeing that it's a false economy to just have rubbish practice tyres.
"I think it's gaining momentum, we'll keep pushing for it because we know it's better for the sport, and it's better for young up and coming drivers.
"We're not running any of those so we're not doing this push to help Triple Eight, we're doing this to help Supercars."
Teams were issued an extra set of tyres for the last weekend's Red Rooster Sydney SuperNight 300 following a late change to the allocation.