Walkinshaw indicates timeline for Camaro decision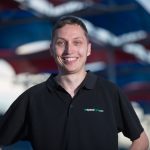 Walkinshaw Andretti United would ideally need to know if the Camaro Supercars project is viable by the end of the year should it wish to develop the car for competition in 2020.
The race team in conjunction with its automotive arm Holden Special Vehicles (HSV) is currently conducting a detailed study into whether the Chevrolet Camaro could be transformed into a Supercar.
Interest in the Camaro joining the Supercars grid has heightened since the announcement that Ford will develop a Mustang to race in the championship from next year, which will see first two door coupe homologated to compete under the Gen2 rules.
The squad's new technical director Carl Faux is heavily involved in the study which will analyse whether a Camaro body will fit on the control Supercars chassis, cost, its marketing benefit and assess if the car is an effective and competitive option.
THE FINAL RACE OF THE 2023 REPCO SUPERCARS CHAMPIONSHIP ON ONE OF THE WORLD'S BEST STREET CIRCUITS. GO ALL IN AT THE VAILO ADELAIDE 500, CLICK HERE TO BUY TICKETS
Faux is well versed in car development having played a key role in designing race and championship winning cars in the British Touring Car Championship, including last year's Subaru Levorg title winner.
It is understood one of the key components at this stage is the ease and ability for the two door body shape to fit over the control Supercars chassis.
However, Walkinshaw says his team would require at least 12 months to develop a car should the Camaro project receive the greenlight and hopes to know the outcome of the study by the end of the year.
"We're still looking at it, but as I said previously, it's definitely not for next year," Walkinshaw told Speedcafe.com.
"You want to have at least a good year (to develop such a car) I think.
"I think by the end of this year we'd want to know at least internally, is this something we can do, from a resource perspective, from a cost perspective and from a design and engineering perspective?
"There'll still be a lot of challenges throughout that year.
The project has already attracted input from across the Walkinshaw Group with solid progress being made.
"(The study) is pretty good," he said.
"I won't give too many details but Carl (Faux) and the team have been working pretty hard on that in their spare time somehow to look at it, so we're also working with my design team from Walkinshaw Group as well.
"They've given us a little bit of a hand as well with some of their resource.
"When the time comes, we'll bring in the engineering team, we've got about 85 engineers now at our new facility.
"They're flat out as well with a lot of our road cars programs but there's a few people there champing at the bit to do something to support our guys on the race team, something like a cool unique project like a Camaro or another body shape if that's the route we go down."
While there is plenty of work ahead before it becomes clear if the project is feasible, Walkinshaw admits racing a Camaro would present marketing benefits for his company.
HSV has this year started importing and selling road going Camaro to the Australian market which provides a nice fit for business.
"There are some marketing benefits potentially for running a Camaro, previously just having a Camaro here running against a Commodore and an old Falcon that was not even sold anymore and an Altima; that wouldn't have interested is at all," Walkinshaw added.
"But now that the Mustang is in, that's something a little bit more interesting, from a brand positioning perspective.
"At the same time, me and co-owners Michael (Andretti) and Zak (Brown) will make the best choice for the race team independent of any of our businesses, including mine in the road car sign of things."
Walkinshaw Andretti United currently fields two Holden ZB Commodores for Scott Pye and James Courtney with the squad occupying sixth in the standings.