Lowndes laps Laguna Seca in Dream Drive visit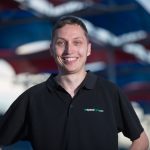 Supercars star Craig Lowndes has cut a lap of the famous Laguna Seca circuit before taking part in celebrations to mark the reopening of a famous highway in California.
The Triple Eight driver headed stateside after finishing fourth at the Red Rooster Sydney SuperNight 300 to drive in a special convoy to celebrate the return of Highway 1.
Prior to the cruise, the 44-year-old took a 1970 Chevrolet Corvette Stingray for commemorative parade laps around the famous WeatherTech Raceway Laguna Seca track.
Highway 1 is a spectacular coastal road and tourist hotspot that connects the northern and southern regions of the state and was reopened in July after 18 months of closures, the latest caused by landslides.
Lowndes joined an 80 car 'Dream Drive' convoy that included 200 tourism industry leaders, media from around the world.
"As a racing driver and also a first-time visitor to beautiful California, this is a very special experience for me," said Lowndes.
"I've ticked off two dreams in one go: hitting the track at legendary WeatherTech Raceway Laguna Seca, and driving one of the most spectacular road trips in the world."
Lowndes will return to Australia in time for the Round 11 of the Supercars Championship which visits South Australia's The Bend Motorsport Park from August 24-26.