Victorian events in Supercars 2019 calendar shake up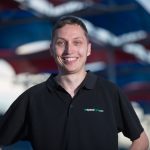 Next year's Supercars calendar could be set for a shake up with the championship evaluating the length of its 2019 schedule and options for its rounds in Victoria.
Series management is continuing to map out its 2019 plans set to be released in late September/early October.
Supercars CEO Sean Seamer remains coy around the length of the calendar amid suggestions that scaling back from 16 to 14 rounds could be an option.
"We're not chasing a specific number (of events)," he told Speedcafe.com, when asked if a 14 round championship was a consideration.
"What we're looking for is the best possible schedule for fans and for broadcast, while making sure that that works operationally for teams.
"We are making sure that we're factoring in the whole ecosystem in what a balanced calendar looks like."
A desire for a balanced calendar may see changes to Victorian events, notably meetings at Winton and Phillip Island, which have been held in either April or May date slots since 2016.
Queensland teams told this website earlier this year they had a commitment from Supercars that the 2019 schedule would be addressed after stating that the Victoria weighted start to this season was bordering on being unsustainable.
One event in the region that is immovable however is the Formula 1 Australian Grand Prix which is already locked in for March 14-17 as Round 2 after the Adelaide 500.
Meanwhile, Winton appears set to remain on the calendar with a deal in place for 2019 after securing the crucial funding from the Victorian government required to trigger the final year of its current contract with Supercars.
Likewise Sandown has one year left on its deal, with owners The Melbourne Racing Club due to install required FIA safety upgrades ahead of this year's Pirtek Enduro Cup opener in September.
However, Phillip Island is out of contract following this year's round with renewal talks between Supercars and the circuit underway, although there is no guarantee it will stay on the calendar.
The famous circuit has struggled to attract crowds with attendances understood to have worsened since it moved from November to an April slot in 2016.
"There's a chance that we will need to look at where we go racing in Victoria and when," said Seamer, when asked if there was a chance Phillip Island may drop off the calendar.
"It's too early to say who's at risk there.
"The other thing we've got to remember is that there's a lot of circuits that are up for repairs, and what needs to be done there as well, so sometimes things are out of our control.
"It's still too early to say where all those tracks are going to be. We've got Winton, Sandown and Phillip Island and we'll be looking at all of those between now and the end of the year.
"We continue to talk to all of our partners, whether they're up for a renewal or not, to see what that looks like and how that might fit and get their point of view on dates and what works for them.
"I think the thing with Phillip Island is that we need to potentially look for a slightly better weather window, potentially look to take the racing to the Island when the people are there.
"But night racing's not going to work, unfortunately (due to tight time/noise curfews at the circuit)," he added when quizzed if the recent night racing concept at Sydney Motorsport Park could help improve event attendance at the track.
Phillip Island managing director Fergus Cameron confirmed positive discussions have been held with Supercars, but admits the championship will ultimately decide if it will return to the venue next year.
"We are in discussions with Supercars," Cameron told Speedcafe.com.
"Phillip Island has a long history of involvement and we want to see that continue but at the end of the day the decision is down to Supercars as to where they go and run their races.
"I do acknowledge there are now four rounds of the championship in Victoria. There might be some balancing that they might want to achieve there.
"We are looking at a lot of different ways to encourage visitation to the event down here.
"The timing of the event is an important issue to consider as well.
"It (a later date) would certainly suit the circuit in terms of weather conditions for that time of year and when we had a race that was the penultimate round of the year, they were some the best years Supercars was here at Phillip Island.
Cameron also revealed talk of a summer series in 2020, revealed by Speedcafe.com, would prove beneficial for all Victorian circuits should the concept gather support.
"We certainly like the discussion and speculation about a summer series and I think all Victorian circuits should find that a benefit," he added.
The only Supercars event outside of Victoria that is currently out of contract is the round at Perth's Barbagallo Raceway although contract talks have begun.
A host of existing championship events have one year remaining on their contracts including Symmons Plains, Townsville and the Gold Coast.