Australian GT outlines plans for 2019 campaign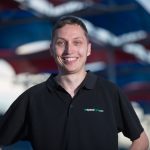 New Australian GT owner Jim Manolios has outlined his vision for an eight round series split over Supercars and Shannons Nationals events next year.
Work to finalise the 2019 calendar is well underway with the championship opening discussions with Supercars during the Red Rooster Sydney SuperNight 300.
Now the takeover of the category is complete Manolios says he is not expecting to make wholesale changes to the series next year.
Instead he is targeting a calendar comprising five sprint rounds (featuring one hour races), likely to coincide with Supercars events, and three endurances rounds, with three or four hours the preferred race distance.
The latter would see the championship race on the Shannons Nationals bill to accomodate the longer races.
There is a strong possibility the championship will be solely focussed on Australian events with rounds in New Zealand rated at a 50/50 chance currently.
Australian GT has held rounds across the Tasman since 2013 beginning at Highlands Park before Hampton Downs came on board from 2016.
Both circuits are managed by former Australian GT boss Tony Quinn who is understood to have foot the freight bill for teams.
"I don't think that there's going be big changes," Manolios told Speedcafe.com.
"I think that there are just some areas that we want to focus more on and one would be the experience for the drivers.
"It's just a matter of, probably, upping the professionalism of the category a little bit.
"We're thinking that we'll have five sprint events and three endurance events and that'll make up the championship.
"The tracks and how we do that are still obviously up for grabs."
It is understood the Formula 1 Australian Grand Prix is likely to kick off the championship from March 14-17.
"We're talking to Supercars, I mean we're locked into the Grand Prix and that's a good thing," he added.
"I think that's a great event and it's a great way to start the year.
"It's far enough away from Bathurst (12 Hour) to give people a chance to recover.
"We need to come up with a calendar that's not too hard for the teams but gives us some good racing.
"(New Zealand) is still under discussion. There is the option there, definitely. I don't know if it'll actually come up."
Manolios has also confirmed to Speedcafe.com that he expects the Australian GT Trophy Series for older machinery to once again form its own series similar to the format of last year.