Supercars sets out timeline to appoint new technical director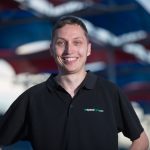 Supercars plans to announce its new sporting and technical director in October with the search to fill the role well underway.
The championship is beginning to take expressions of interest for the position following the news that David Stuart is leaving his technical post at the end of the year.
Stuart has headed up Supercars' sporting and technical department since 2014 but has elected to join the Confederation of Australian Motor Sport (CAMS) as its Division Manager for Safety and Race Operations.
The former Erebus Motorsport team manager will continue in his role for the remainder of the year, which will include the December homologation process for the new Ford Mustang Supercar that will join the grid in 2019.
Supercars CEO Sean Seamer communicated to teams during the Red Rooster Sydney SuperNight 300 that it wishes to announce Stuart's successor by the Vodafone Gold Coast 600 after a thorough recruitment search.
"We've covered it off with the teams, and said that we're taking expressions of interest," Seamer told Speedcafe.com.
"By mid-September we'll look at the shortlist. Early October we'll have the interviews done, and we're planning to announce the replacement around the Gold Coast in mid-October time."
Seamer say the role has already attracted plenty of interest already but expects more candidates to come forward in the coming weeks.
"Dave (Stuart) has done a great job, but it is a fantastic job as well," Seamer added.
"There's been plenty of interest up until this point. I'm sure there will be moving forward.
"Well we've had a few people reach out, and I'm expecting a few more as well."
The sporting and technical director will continue to be an important role for the championship as it welcomes its first two door body shape through the Mustang next year.
There has already been investigations into the feasibility of a Chevrolet Camaro joining the grid from 2020.
The technical department is also in charge of developing the fledgling ECB SuperUtes Series.