Winterbottom: We've got a lot of work to do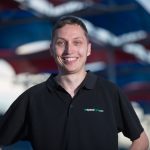 Mark Winterbottom admits there is still plenty of work required to turn his Falcon into a front running car after a difficult Red Rooster Sydney SuperNight 300.
The 2015 champion showed glimpses of pace by finishing third in opening practice but his weekend worsened from there.
Winterbottom could only qualify 14th before going on to finish the 300km race in 15th position having struggled with the balance of his Ford.
Heading into the weekend the squad elected to follow a set-up direction led by Chaz Mostert following his drought breaking podium success at Queensland Raceway.
While Mostert starred for the Tickford Racing squad by finishing fifth from seventh on the grid, the team's remaining three cars including Winterbottom struggled.
"We've got a lot of work to do on my car," said Winterbottom, who sits 13th in the championship standings.
"We're not doing what Car 55 is doing even though we're all a lot more similar now.
"There's one car that's performing better than the others, we need to work out why and move forward."
Meanwhile, Mostert enjoyed running with the pacesetters in the Saturday night race for the second weekend in succession.
The 26-year-old revealed the opportunity to race towards the sharp end allowed him to understand where the weaknesses in his car lie.
"It was a crazy race, but a good result for us," said Mostert.
"Anytime you get a top five in this championship it means you're running right at the pointy end.
"Definitely good to run with the front guys, it's the same thing as QR, it's good to run with them because you can find what your weaknesses and what your strengths are.
"It's another good event under our belts, qualifying didn't quite go to plan for us, we should be a bit further to the front, but fifth's a good result.
"The boys did a good job, strategy was tough out there, big field spread as well, so we just did what we could."
Mostert's fifth was one of few positives for Tickford as team-mates Richie Stanaway and Cameron Waters encountered dramas during the 77 lap race.
Waters finished in 19th spot after he was hit with a 15 second time penalty for tagging the rear of Tim Slade's Brad Jones Racing Commodore at Turn 2.
His effort was marginally better than Stanaway who came home in 21st after suffering rear suspension damage.
Tickford boss Tim Edwards admitted it was a another tough day for his squad, outside of Mostert, as his team continues to search for answers to its pace shortfall.
"It's good to see Chaz and the Supercheap Auto crew up where they deserve to be, but it was a tough day for the rest of the team, which is disappointing after the way Friday went," said Edwards.
"Obviously it's good to have Chaz up there, we know we're doing something right, we've just got to find out where we're lacking on the other cars and try to get them forward.
"Some things are out of your control and tonight was no different, but we'd help ourselves a lot by picking up those few tenths and having all four cars further up the grid."
The Ford squad will resume its campaign at The Bend Motorsport for the inaugural OTR SuperSprint from August 24-26.