DJRTP may rue victory that got away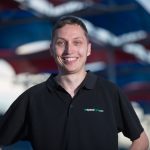 Shell V-Power Racing may rue a victory that got away at the Sydney SuperNight 300 in a title fight that is likely to go down to the wire, according to managing director Ryan Story.
Championship leader Scott McLaughlin appeared in the box seat to take out his eighth victory of the season before a late Safety Car changed the complexion of the 77 lap night race.
Pole-sitter McLaughlin had already made his final stop when a rear wing failure for Todd Hazelwood forced an interruption that played into the hands of the Red Bull Holden duo of Shane van Gisbergen and Jamie Whincup, who were yet to make their final stops.
Armed with fresh tyres van Gisbergen reeled in McLaughlin as the pair produced a thrilling battle for the victory in the closing stages of the race.
Ultimately McLaughlin was unable to hold on and dropped to third at the flag behind title rival van Gisbergen, who closed the gap in the championship to 89 points with his fifth win of the season.
Fully expecting the title battle between McLaughlin and van Gisbergen to go to the final race of the year, Story felt it was a victory that slipped away but is glad his driver is continuing to rack up the points.
"We had pacey car, and I think we'll probably rue this as one that got away," said Story.
"But that's the nature of these things, you've got to be on top it, you've got to be on top of the strategy game and if you've got a fast car you've got to make sure that you execute and get it done.
"We weren't there when we needed to be and didn't pull it all together.
"We'll bounce back bigger and better next time around.
"We've still got a healthy lead in the championship, but we know that's going to go down to the wire.
"So we just have to continue to ensure that on days where we don't win we do what we did.
"We're still on the podium and we're still up the front gathering up and furthering up as many points as we can.
"I was coming here with a fair bit of trepidation, I mean a double points race like this one, so much can go wrong. But if you get it right the rewards are huge. So I think we got away with it in the end."
Van Gisbergen's win has tightened the title fight with the Triple Eight driver enjoying a hot streak of three wins and two second place finishes in the last five races.
Over the same period McLaughlin has scored one win, a second and three third place results, although the 25-year-old remains the qualifying king with four pole positions during that run.
With Triple Eight seemingly on the march, Story says his team will continue to strive for improvements from its current Falcon package, but admits his squad is juggling this with the development of the Mustang Supercar for next year.
"We're in the same position that they (Triple Eight) were last year (when they were developing the ZB Commodore), you've got one eye on the future and one eye on the present," Story added.
"We're working pretty furiously on developing this Mustang and ensuring that we've got a really good weapon to fight with next year.
"It doesn't mean we're letting our eye off the ball this year by any means, but there's only so much you can continue to do with the package that you have.
"We're going to keep fighting, and like I said, this thing's going to go down to the wire and we're under no illusion to anything less.
"We'll do the best we can and continue to look forward, because anything we can do to improve the mechanical underlying package of the car will pay dividends next year as well."
The championship heads to new pastures later this month with the inaugural OTR SuperSprint at The Bend Motorsport Park from August 24-26.