Supercars to investigate more night racing after Sydney success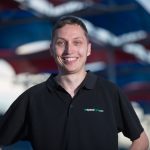 Supercars will evaluate the prospect of expanding its night racing concept in the future following a successful inaugural Red Rooster Sydney SuperNight 300.
The championship's first night race on Australian soil for 21 years proved to be huge a hit with drivers, teams, fans and the media as a bumper crowd of 32,940 flocked to Sydney Motorsport Park on Friday and Saturday.
Racing under lights delivered not only a unique atmosphere but a thrilling 300km race as title rivals Shane van Gisbergen and Scott McLaughlin duelled with the former coming out on top in front of 21,220 spectators.
Such was the success the event managed to overshadow two high profile NRL games that clashed with the race in Sydney.
The return of night racing has been more than 12 months in the making with the mammoth project including the installation of 50 lighting towers, the creation of a unique pre-race show featuring driver introductions and a post race fireworks display to engage fans, successfully executed by Supercars.
Today championship bosses are set to discuss the prospect of locking in the format at the Sydney venue for next year and the possibility of rolling out the concept at other circuits.
Night racing could be a good fit at smaller circuits such as Queensland Raceway, Symmons Plains and Barbagallo Raceway or included in a proposed summer series should the championship elect to expand the idea.
"It was an incredible night. The crowd, the atmosphere and the race were nothing short of special," championship CEO Sean Seamer told Speedcafe.com.
"After 21 years it has been a big and successful welcome back to Supercars night racing (in Australia).
"The lights added a new dimension to an already fantastic show for fans. We've certainly taken away a lot of learnings from the event.
"Many people were saying it was the biggest crowd they have seen at Sydney Motorsport Park, for a long time. Our figures show the final crowd numbers at 32,940.
"On television, the ratings on Friday were up by 73 percent. Putting the race in the right time slot certainly had a strong impact on the numbers.
"There is certainly an appetite to look at doing it here again next year and other potential venues in the future.
"I think it would be remiss of us to go through and put all of this effort into something like this, and for it to be a success for our fans, both here on the ground and on TV, and then not to roll that out.
"We are motor sport, but fundamentally, we're entertainment. And we're trying to lift our game."
Seamer also believes the championship should look into introducing more twilight races in the future as a way to engage with the fans.
"(It's) not just night racing, but (we're) also looking at twilight (races) as well. The premise is making this sport more accessible and digestible for more people. So there are obviously other ways to do that beyond just lights," he added.
Triple Eight team owner Roland Dane was among those praising the concept which he believes could easily be adopted at other circuits.
He does however feel two shorter races would be better than one 300km encounter.
"It looked fantastic from where I'm sitting. I can't see how many people are here but it felt like the biggest crowd I've seen here. It had a good vibe to it, to be honest," Dane told Speedcafe.com.
"I think that three or four places where we could (have night races).I suspect we're probably better off to have two short races rather than one long one.
"You've got to look at each venue in its own right. Somewhere like Darwin, they want us in the town having a good time in the evening, they don't want to clash with the circuit. It's not appropriate there.
"But Queensland Raceway there for instance on a Saturday night I think there are plenty of fans who come out and watch, especially probably in the summer."
Shell V-Power Racing managing director Ryan Story echoed the thoughts about the concept but has warned that such an expansion should be carefully evaluated.
"(Sydney was) Sensational. Great atmosphere, great crowd," said Story.
"I think that (more night racing events) needs to be evaluated properly. Too much of a good thing is sometimes too much. We'll see.
"The management team at Supercars, they'll look at it and evaluate it, and I think with the team representatives that we have on the board and commission and they will sort it."
Supercars is continuing to work on its 2019 calendar plans which are due to be revealed in late September/early October.