POLL: Should Supercars host more night races?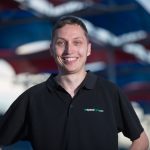 The success of the inaugural Red Rooster Sydney SuperNight 300 could see night racing become a regular fixture in future Supercars calendars.
Racing under lights for the first time on Australian soil in 21 years certainly lived up to the hype by producing an extravagant show for spectators and viewers.
It ticked all the boxes for Supercars as a bumper 32,940 event crowd flocked to Sydney Motorsport Park with Saturday's 21,220 figure almost 50 percent up on any of the days at last year's meeting.
Early indications suggest the SuperNight 300 attracted a 17 percent increase in television viewers compared to last year's Saturday race.
While the sight of cars racing, a spectacular pre-race show and post-race fireworks, attracted families and new fans, the event has also been hailed a success by the drivers and teams.
This coupled with a thrilling finish to the 300km race between title rivals Shane van Gisbergen and Scott McLaughlin was the icing on the cake.
Today Supercars will commence its event debrief and begin discussions to lock in the concept at Sydney for next year and investigate other venues where night races could be held.
Championship CEO Sean Seamer told Speedcafe.com that it would be remiss of the category not to investigate further night races off the back of a successful Sydney SuperNight 300.
Smaller venues such as Queensland Raceway and Symmons Plains could be seen as potential candidates.
The concept could be incorporated perfectly into a summer series should the championship pursue the possibility of switching its calendar for 2020.
While it can be easy to get carried away by the success of the Sydney SuperNight 300, staging such an event presents a massive undertaking by organisers.
Night racing also comes at a significant cost with more than 50 lighting towers hired to light up the 3.91km Sydney Motorsport Park circuit.
Race winner van Gisbergen claimed the lighting is an area that needs to be improved for next year stating it was 'not good enough but adequate' but this was among the few minor criticisms of the event.
The financial aspect to host such events versus crowd and television figures will have to be carefully considered.
Another area Supercars may consider for future night races is the race format itself and whether two shorter heats would be beneficial over a 300km encounter.
But more importantly what do you the fans think?
Should Supercars host more night races in the future?
Cast your vote below.